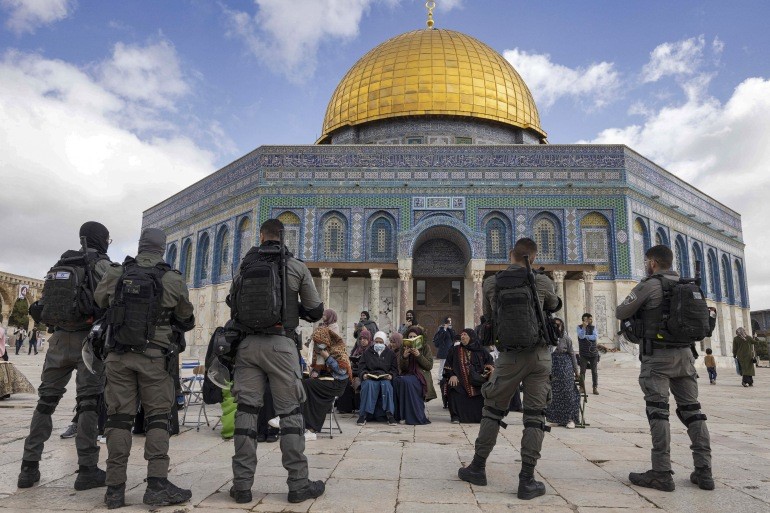 The third Friday prayers of Ramadan at the Al-Aqsa Mosque compound in occupied East Jerusalem were sandwiched by Israeli police attacks on Palestinians attending prayers, but that did not stop some 150,000 Palestinians travelling to the mosque to worship, according to the Jerusalem Islamic Waqf.
Israeli forces raided the mosque on Friday after dawn prayers, injuring at least 31 Palestinians, including three journalists, with rubber-coated bullets, stun grenades and tear gas. Israeli police said the raids were in response to Palestinians throwing rocks. Tear gas was also fired after Friday prayers, hitting Palestinians worshipping at the Dome of the Rock inside the Al-Aqsa Mosque compound.
Settler incursions under police protection during the past week during the Jewish festival of Passover had led to daily confrontations with Palestinians at the mosque, with many injured and arrested.
On the first day of Passover, April 15, Israeli forces injured at least 158 Palestinians and arrested 400 others inside the compound. Dozens more were injured and arrested throughout the week.
Despite fears of matters escalating on the ground, Palestinians have said that their continued presence at Al-Aqsa is imperative.
"I think it's very important for people to come to Jerusalem and to Al-Aqsa. You feel belonging, you feel responsibility towards Jerusalem, to teach our children that this is our land, that Al-Aqsa is our religion," Rana Mohammad told Al Jazeera at the compound.
The 36-year-old mother hails from Nablus in the occupied West Bank, and came to East Jerusalem with her husband and her five-year-old son.
Ramadan represents a rare opportunity for Palestinians from the occupied West Bank – while Palestinian Jerusalemites and those with Israeli passports can access Al-Aqsa at any time, Palestinians living in the occupied West Bank are only allowed to enter the city with a difficult-to-obtain military permit outside of Ramadan.
"We cannot come on normal days, so you wait for this moment minute by minute. The feeling of being here is indescribable – you feel that your spirit is rejuvenated," said Mohammad.
A rise in attacks by Palestinians inside Israel led to the killing of 14 Israelis in three weeks. Meanwhile, Israelis have killed at least 43 Palestinians since the beginning of 2022.
Weeks of protests and raids by Israeli forces on Al-Aqsa during Ramadan last year escalated into a widespread uprising across Israel and the occupied Palestinian territories, and an 11-day assault on the besieged Gaza Strip.