Albania's Minister of Finance and Economy Anila Denaj signed with the Minister of Commerce of the People's Republic of China, Wang Wentao, the Memorandum of Understanding "On the Establishment of a Joint Working Group for Investment Cooperation" within the joint initiative "One Belt, One Road", according to an announcement published on the website of the Ministry in Tirana on Wednesday.
This memorandum aims at promoting bilateral economic and trade relations, as well as increase investment and cooperation in various fields by improving the mechanism of investment cooperation under the Joint Commission for Economic Cooperation between the Government of the Republic of Albania and the Government of the People's Republic of China, said the announcement.
This initiative was also praised at the 9th Summit of the Leaders of the "China-Central and Eastern European Cooperation Initiative 17 + 1 which was held in virtual format on February 9. Chinese PM Xi Jinping made a key speech unfolding the future platform of cooperation.
It is reported that PM Edi Rama was one of the 17 leaders of CCE countries who participated in the Summit. "This initiative, created by Beijing in 2012 to strengthen ties with Central and Eastern European countries turned into a 'bone of contention' a few months ago, when former US President Donald Trump sent a letter to the head of the Albanian government asking him to break away from it," said daily Tema on Wednesday.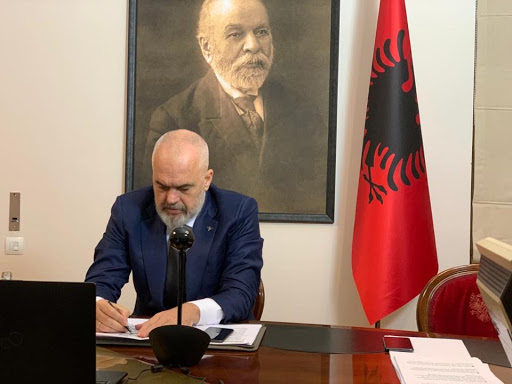 Although the Albanian government has not yet issued an official statement, sources told Gazeta Si on Wednesday that Prime Minister Rama has signed an agreement with the Chinese government on the construction of a pilot plant of agricultural machinery in Cërrik. According to sources, this station will also serve as a treatment center for the use of these machines, which will be offered by China, not only for Albanian farmers, but for those from across the region. But this is not the most important agreement signed between the Albanian and Chinese governments in the framework of the 17+1 initiative.
Sources tell Gazeta Si that Albania has recently signed an agreement with official Beijing on agricultural exports with China. Although there is no official announcement from the press office of the Prime Minister or the Minister of Agriculture, Gazeta Si has learned that this agreement signed with the Chinese Customs Administration enables Albanian producers to export to China products such as yogurt, milk, cheese or honey thus opening the doors of the second largest market in the world.
Although there is still no announcement by the Ministry of Agriculture, the Chinese government stated during Tuesday's Summit that Beijing was offering to double agricultural exports from Albania and other Eastern European countries over the next five years. The opening of exports to China also comes as part of official Beijing's need for more agricultural products from the region.
China announced the member countries of the mechanism during the Summit that it would work to open or increase agricultural exports with all Southeast European countries, calling the cooperation with Albania a success and emphasizing that the Chinese market is open to the entire region. /argumentum.al