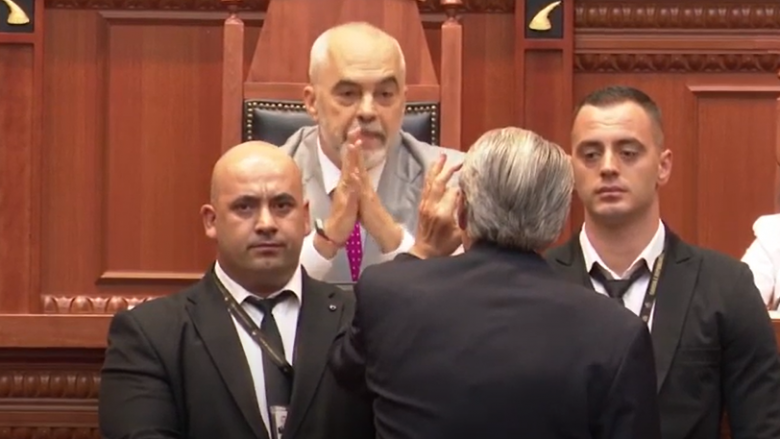 TIRANA, July 21 – Prime Minister Edi Rama reminded the opposition Democratic Party (DP) leader, Sali Berisha that he is 'non grata' as designated by the US, while telling him that history cannot escape him.
Rama made that comment in Thursday's plenary session of the Assembly which was full of curses and offenses between the deputies of the majority and opposition as a draft resolution on the report of Dick Marti was discussed. According to the draft resolution, the investigations have concluded that Dick Marty's report "for killing people with the purpose of extracting and selling their organs and illegal trafficking of human organs in Albania and/or Kosovo, remain unsubstantiated'.
It was Prime Minister Edi Rama who spoke first, causing strong and harsh reactions from DP deputies.
"You supplied (with fuel) Milosevic. You are undesirable, 'non grata'. Go now, your story is over. Go out to the other side and make a fuss. History comes before you and says wait 'you think you are strong but history is stronger than ever'. Here comes the story with Dick Marty's report. How did this thing start? By Kremlin! How did it go? You voted for it. Undesirable for whom? For Slobodan? Not for the USA," said Rama.
In the meantime Berisha retorted by saying that Rama was selling stolen icons in Paris while the blood of young people was being shed in Kosovo. He denied that DP had voted in favor of any report of Dick Marty. Berisha said it was voted for the resolution submitted by the European Parliament in which there was not a single word about bodies or crimes, nor about the yellow house or the white house. "Albania voted because if it had not voted, it would have accepted the guilt and today we would not have this resolution, which I support," said Berisha.
In the meantime DP deputy Grida Duma told Rama that he was the greatest actor in the Assembly. "You use your mouth to defecate. You voted for Srebrenica after someone here put you in a political trap and you got red cards and you voted against it, but then you came forcefully after a week and voted to denounce the Srebrenica massacre. We will vote for Dick Marty, because we don't stab Kosovo in the back."
/Argumentum.al