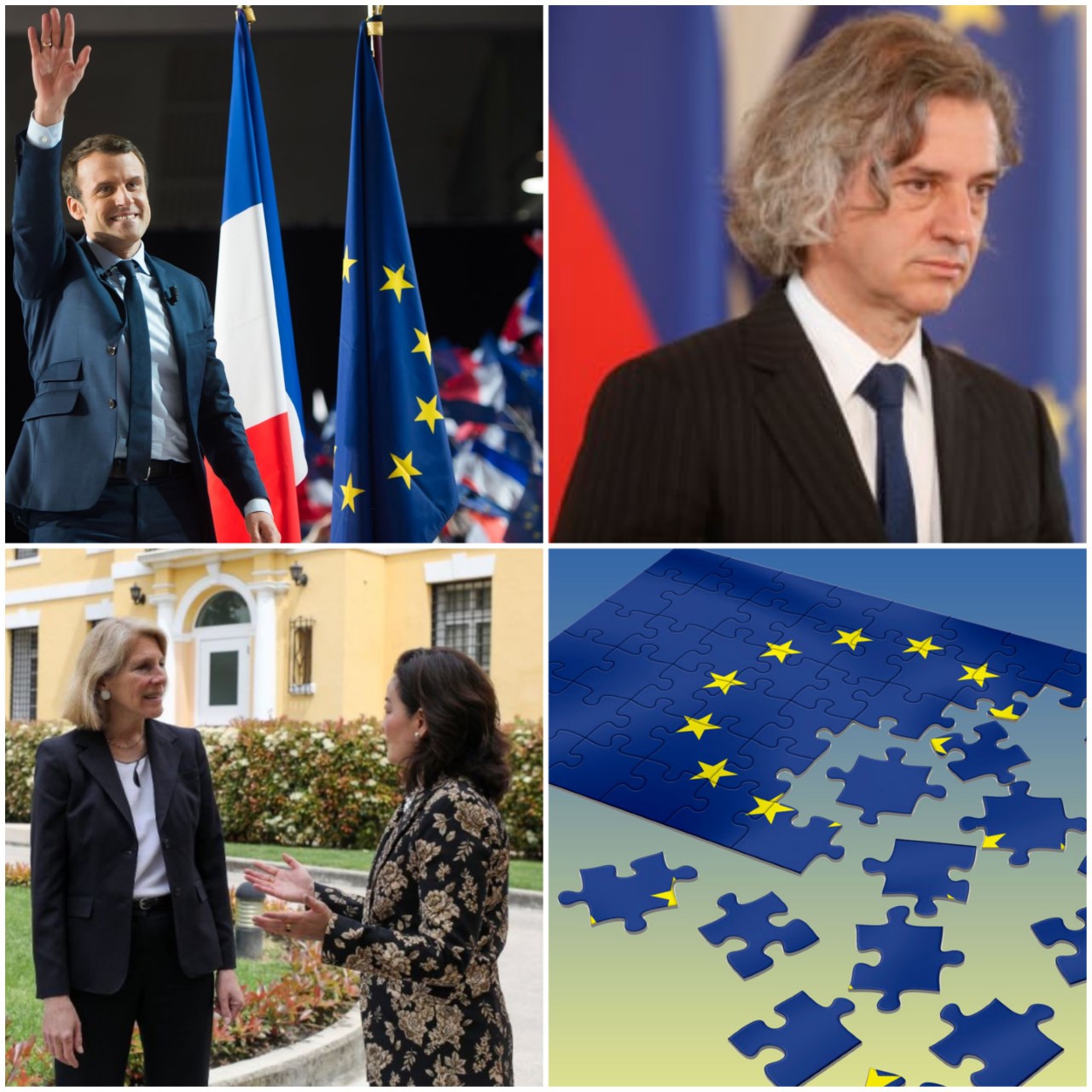 Realpolitik " Flash" No. 21
15 APRIL – 2 MAY 2022
EXCLUSIVELY at ARGUMENTUM, DR. JORGJI KOTE, a renowned diplomatic analyst, " dots the i's and crosses the t's" on 5 major events in only 1000 words
1. Europe won in Paris and Lubljana on 24 April in the presidential elections, where Macron gained 59 per cent, whereas Marine Le Pen, the leader of the far right 41 per cent. As mentioned in my article at ARGUMENTUM " Victory for Macron, France and Europe" Macron is the most experienced leader of a big state atter Merkel has left. He leads the only major moderating political force in France, where the far right and far left prevail with 60 per cent. At home, Marine Le Pen endangers the country's unity, whereas in the foreign policy the very existence of EU/NATO, the lives of millions of emigrants and inciting this negative trend in Europe. This is why together with Macron, it was France and Europe that won on 24 April; Europe made a sign of relief in Brussels, Berlin, Rome, London and elsewhere.
The other good news is that the Slovenian PM Janez Jansa lost with 24 per cent in the new parliamentary elections against the pro-EU opposition leader of the newly founded Freedom Party, Robert Golob with 34 per cent. True, geographically, Slovenia is a small state; yet, this was a notable victory for democracy; since Jansa had been showing ideas and practices contrary to EU fundamental values. Therefore, as a song of the late 80s goes, on 24 April Europe celebrated "two joys in one day"!
2.More it was expected from the visit of the US Assistant Secretary of State, Mrs. Karen Donfried in Tirana on 28/29 April. Moreover that just a few days ago it was released the Annual State Department Report; although besides achievements, it higlighted many reservations and criticisms, Rama called it a " copy and paste"!!! Well, from the photos, smiles, gifts and lack of a Press Briefing, meeting with him seemed more like a courtesy call, whereas with Mr. Alibeaj of the Democraric Party as a consolation after the defeat in 6th March and Basha's resignation. Meanwhile, no one can guess the effects of her "slap" against Mr. Berisha, since together with the DP majority that follows him, he continues to move ahead and not without success.
Likewise, it did not leave a good impression her lack of contacts with civil society, media and NGOs. Ok, this was the first visit in the region. However, they need more "colours" and energy! Now, who knows, in her meeting with PM Rama Donfried may have pointed out critical concerns as well, which are not made public.
Then, her " complimentary brushes" for Juri Kim that" Albanians are lucky to have her as Ambassador" were not so diplomatic, since the question might arise: what about other countries, are they unlucky and secondly, who knows, maybe Ms.Kim is luckier to be in Tirana! While objecting the exagerations and the online petition against her, it should be also admitted that there is an unplesant public perception that " identifies" her with the Government, which is not so insignificant. Unlike the " river of compliments" Ms. Kim has not made any critical comment and critical remark for the Government, even though the cases have not been lacking for that!
3. PM Rama " missed the mark" with "Open Balkans" after seeing Mrs. Donfried on 29 April in Tirana. He affirmed that she had given full support to "Open Balkans"! However, the Press Release from the US State Department and her interview for the "Voice of America" on the same day do not mention at all Open Balkans! PM Rama did also miss the mark during the Press Conference with the EU Enlargement Commissioner Varhelyi on 28 April. in Tirana. Obsessed with this half initative, Rama renewed its values. Nonetheless, neither did Varhelyi mention Open Balkans, even in his personal quality as he did last December. This is quite natural, because the EU Commission, Council and Parliament do not recognize " Open Balkans"; they mention, acknowledge and support the inclusive " Western Balkans Regional Common Market"!
4. "Rain in Sofia, hail" in Skopje! We do say so because a few days ago, the Bulgarian Foreign Minister stated that the veto would not be lifted until Skopje inserts in its Constitution the rights of Bulgarian minorities. But, even if Skopje would agree to do that, it would take months to make the relevant amendment, making it practically impossible to open negotiations this June. It started "to hail" in Skopje when FM Bujar Osmani warned that the issue with Sofia could become a " frozen confict" that would last for years ! He said this is likely to happen, because Skopje has made all possible concessions and it would not move from its position!.
5. Decoupling looks like"cold halva"! PM Rama has stated correctly recently that if the negotiations do not open this June, he will ask for decoupling us from Northern Macedonia. Well, this is easily said than done! Because it is only the EU Council, i.e. the leaders of tis 27 Member Staes that could take such a decision BUT in full consensus. For the time being this consensus seems extremely hard, not to say impossible. Thus, Romania was the first to warn against possible decoupling a few days ago. But there are other larger states, like France, Germany, the Netherlands and Spain firmly opposed to decoupling. Even other countries, let us be frank, are reluctant to open negotiations and generally speaking for the further enlargement. This is also indicated by the latest polls there. Moreover, the perception is that Northern Macedonia is much more advanced than Albania and it has been waiting for 17 years on end, whereas Albania only 8 years. Finally, this " hamletian" dilemma maybe solved afer clarifiying the final position of the EU in June related to the New Europe which they want to have. This is why opening negotiations, together or decoupled, may remain ony wishful thinking for an indefinite period, depending on the compromise between Skopje and Sofia. Morever now, after the Russian agression against Ukraine, it is not Decoupling, Divisiton, but Solidarity and Togetherness the prevailing logo. Therefore, at least for the time being, we have to move along this trend and spirit.
© 2022 Argumentum