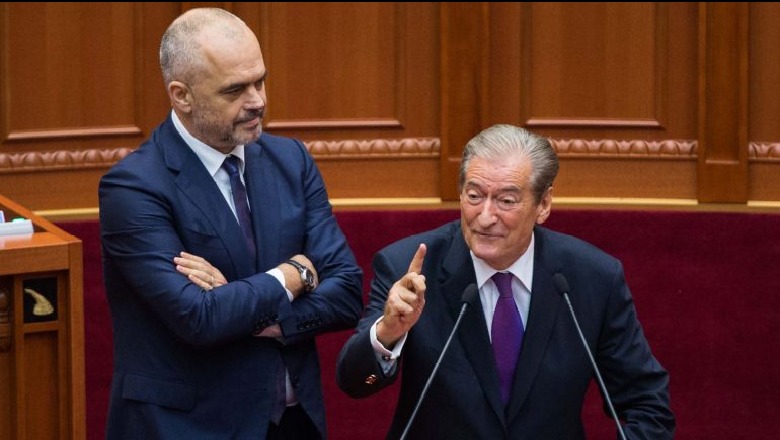 TIRANA, May 11 – Former premier Sali Berisha has declared that PM Edi Rama is in a state of panic, and that is why he has turned against the justice system and his political opponents. Berisha made that comment in a press conference held at the headquarters of the Democratic Party (DP) on Wednesday.
The criticism by Berisha came after Rama called on the authority of serious crimes prosecution, SPAK, to investigate the veteran Democrat leader.
According to Berisha, the prime minister is trying to shift the attention away from the hardships that the people face on a daily basis as a result of bad governance in Albania.
Berisha listed the corrupt violations made by Rama and among them he mentioned the affair of incinerators, the case of Butrint as well as the death of 24 citizens in Thumana as a result of the earthquake. Regarding the case of the incinerators Berisha mentioned the government secretary general, Engjell Agaci, minister Arben Ahmetaj and the Mayor of Tirana, Erion Veliaj.
"In the last few weeks, the head of the criminal organization of incinerator thieves, in a great state of panic, is taking aim at the justice system and his political opponents. There are some major reasons for that. Edi Rama believes that by taking this approach, which bears great resemblance to the regime in North Korea, he will fulfill several goals. Firstly, to shift the attention away from the people from daily hardships encountered as a consequence of bad governance, which is constantly robbing them," Berisha said.
"Rama is exerting pressure on the justice system to cover up his own violation," said Berisha.
Earlier on, PM Rama dismissed claims that his calls on SPAK in investigating Berisha were intended to pressure the institution. Rama said he's encouraging SPAK to work harder, calling it "the greatest political investment done with the internationals for the country".
In the meantime the former PM, Berisha invited Rama to a public debate, a demand made even in other cases but all of them have been rejected by the premier.
"I invite him to a public debate before you. Let him come out in public and we can say everything to each other face to face… Let him show Albanians documents signed by him like he used to walk undressed on the beach not physically but morally," said Berisha. /Argumentum.al