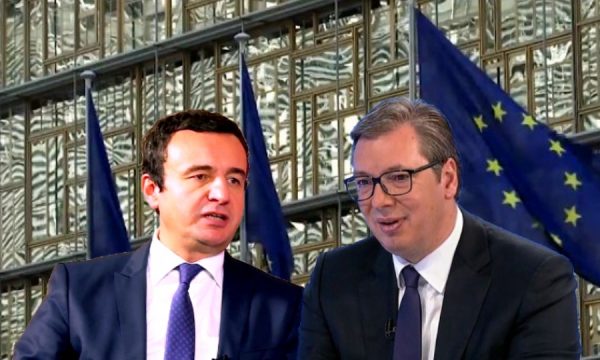 TIRANA, August 4 – Kosovo Prime Minister Albin Kurti and Serbian President Aleksandar Vucic will meet in Brussels on August 18, it was confirmed to BIRN, following the recent escalation of tensions in northern Kosovo.
Perparim Kryeziu, Kurti's spokesperson, told BIRN on Wednesday that an earlier meeting scheduled for July 19 had "failed because Belgrade refused it, requesting its postponement for more than one month".
"Prime Minister Kurti has constantly expressed his readiness for the next meeting which will be well prepared and on bilateral issues," Kryeziu added.
"We are in continuous communication with the European Union and if there is a meeting, it is expected to be held in the third week of August."
This expected meeting will be held after the recent spike in tensions in northern Kosovo, though few expect any progress. Tensions escalated in recent days in Kosovo where Kosovo Serbs protested a government decision about new entry and exit procedures for people with Serbian IDs and about re-registration of cars with Serbian car plates. The tension, according to NATO senior officials, was grave and it had taken all measures to intervene against Serbia.
In the meantime the Serbian President told Serbia's public broadcaster Radio Television of Serbia, RTS, that he will be in Brussels but "does not expect anything".
"Whoever thinks that it is possible to preserve peace with Albin Kurti I think is very wrong," Vucic said on Tuesday evening.
The NATO General Secretary, Jens Stoltenberg held a phone conversation with PM Kurti on Tuesday and the topic of the discussion was the recent tension in northern areas of Kosovo. Stoltenberg wrote on Twitter that "all parties must be calm and avoid unilateral actions and support dialogue mediated by the EU."
/Argumentum.al