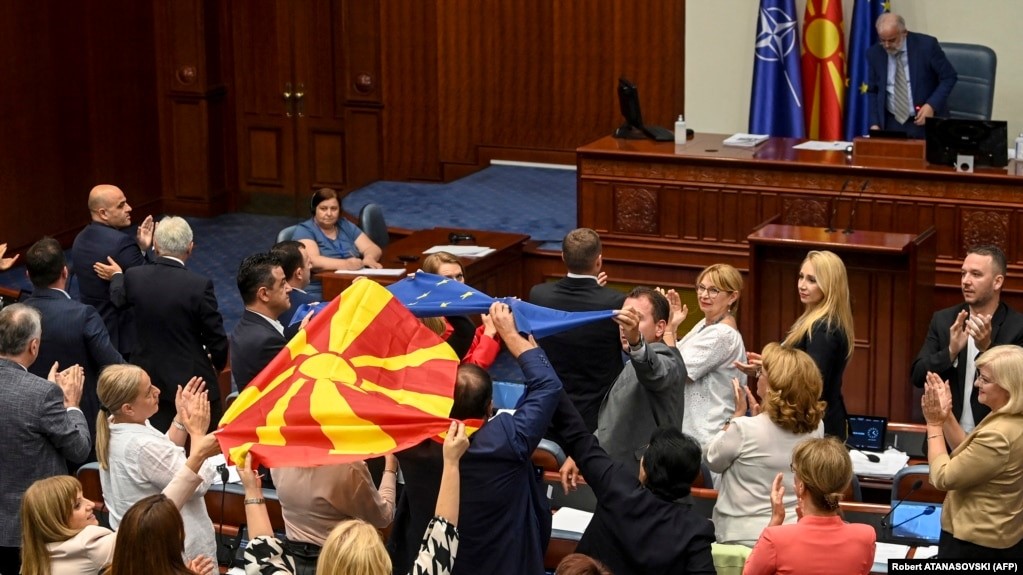 The Assembly of North Macedonia on Saturday approved the French proposal for the settlement of the dispute with Bulgaria, which will pave the way for the European integration process. Meanwhile, the European Union said that the negotiations for the membership of North Macedonia will start next week.
The proposal was approved with 68 votes in favor, none against and no abstentions. Opposition MPs did not participate in the voting process.
The deputies voted for seven conclusions drawn up by the parliamentary group of the Social Democratic League (LSDM), which are related to the guarantees for the Macedonian language and identity.
"The Assembly obliges the Government, through the delegations in the talks, to adhere to the definition of unconditional respect for the language, identity and culture of the Macedonian people, as elements that are not negotiated with the EU. In the framework of the talks, the Macedonian language should be without clarifications, without additions and without footnotes", it is said, among other things, in the proposal-conclusions that were presented by the Parliamentary Group of SDSM.
The leaders of the European Union have welcomed the vote of the Macedonian Assembly in favor of the French proposal, warning that next week the first intergovernmental conferences of the EU will take place with North Macedonia and Albania, formally opening the membership negotiations.
"Congratulations to North Macedonia for the vote, which now paves the way for the rapid opening of membership negotiations. It was a historic opportunity and you took advantage of it. A big step towards your future, the European future", said the president of the European Commission, Ursula von der Leyen.
The president of the European Council, Charles Michel, reacted similarly.
"Our future is shared and we welcome you with open arms," ​​he wrote on social networks, adding that the July 16 vote was a big step for North Macedonia towards the EU.
It is expected that at the same time membership negotiations will start for North Macedonia and Albania.
Albania also welcomed the decision of the Assembly of North Macedonia. The Prime Minister of Albania, Edi Rama, said that Albania's negotiations for EU membership no longer have any obstacles.
"The absurd kidnapping of Albania has ended", said Rama.
/Argumentum.al