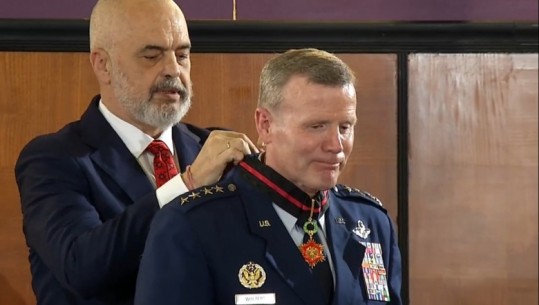 TIRANA, May 25 – Prime Minister Edi Rama presented to the Commander of NATO Operational Command, General Tod Daniel Wolters the medal "Big Star of Public Gratitude" on Wednesday.
Rama handed over the high medal to General Wolters with the motivation: "With deep gratitude for the vision, contribution and cooperation with the Albanian Armed Forces, as well as for supporting the role of Albania in maintaining peace and regional security."
"This is a moment to celebrate the precious friendship with the most valuable alliance that this country has been fortunate to have, which is friendship and alliance with the United States," Rama said in his remarks at the ceremony.
Further he said the European friends of the Albanians feel a kind of curiosity about how it happens that Albania and the Albanians are pro-American. "I'm sure that if some of them are not familiar with our history, we can look stupid to them. But no, we can be anything, but we are not stupid, "he said, adding that this year marks the 100th anniversary of Albanian-American ties.
The head of government said that perhaps the Armed Forces are the best expression of the bilateral journey to learn from American friends and allies, within NATO and at the bilateral level.
"I left it for this moment to tell the General that tomorrow we will have the opportunity to show some of the ideas and he will consider the idea to have a modern NATO naval base in Albania in these very specific and very dangerous times. It is up to us to present the project to him and show him what we have worked on and then he will again be the lawyer and supporter of this idea from the beginning, "Rama said. /Argumentum.al