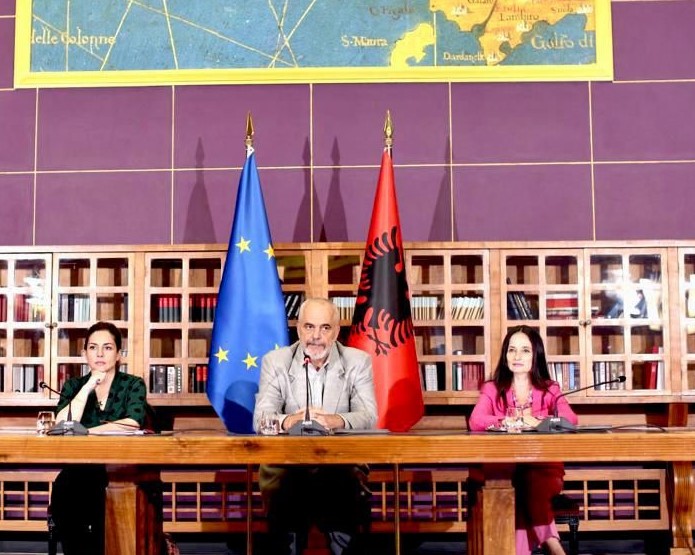 TIRANA, July 30 – The mission is for the country to gain respect in the technical aspect after the political respect it received, said Prime Minister Edi Rama in a news conference with the negotiating team with the European Union.
"It is fundamental that we guarantee with work, with seriousness, with the quality of materials, with the quality of communication that Albania is looked at with respect at every step and that respect earned in the political aspect is also gained in the technical aspect," said Rama on Saturday.
According to him, the appointment of the new chief negotiator underlined the change in the nature of the relationship with the European Union. Justifying the dismissal of the former chief negotiator, Ambassador Zef Mazi, the premier said he did a commendable job, doing an extraordinary diplomatic job. "While now the approach changes. The process now requires a technical profile," said Rama.
There has been criticism against Rama regarding the dismissal of Mazi right after the decision of the EU to launch the accession talks with Albania. Ambassador Mazi has not yet made any comments on how he felt about the way he was excluded from the talks and to reveal if he was capable to carry out the tasks in the continuation of the mission as chief negotiator.
The EU delegation and the US Ambassador, Yuri Kim have not made any comments on Mazi's dismissal.
In the meantime, the new chief negotiator, Majlinda Dhuka emphasized the responsibility for the new task in the joint press conference with Rama who received thanks from her.
"It is with great responsibility that I start my task today," she said. Dhuka had an appeal to her colleagues: "Dear colleagues, I am looking for cooperation, speed, progress, results. I have worked with most of you before. The moment is historic, the trust that has been given to us is special, I would ask you for maximum cooperation."
/Argumentum.al