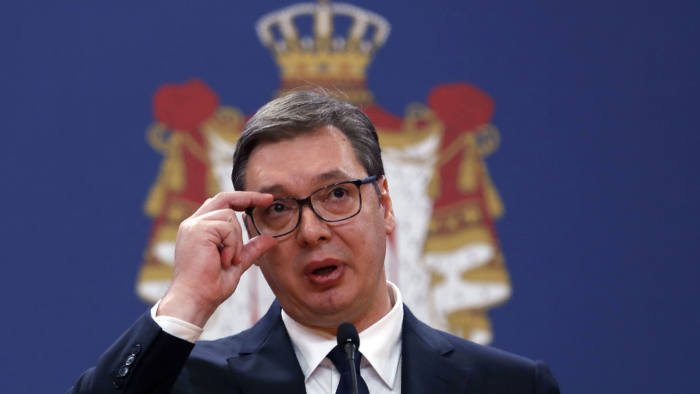 Serbia will not jeopardise its national interests by joining western sanctions against Russia over Ukraine, according to the country's re-elected president, who also defended his country's purchase of a Chinese missile system despite EU objections.
Aleksandar Vucic said in an interview that Belgrade would not "choose sides" despite EU calls for countries seeking membership to align with Brussels in tightening economic penalties against President Vladimir Putin.
Serbia, a candidate for EU membership, has long had strong political, economic and security ties with Russia, which also supplies gas and backed Belgrade's refusal to recognise independence for its former province Kosovo.
"We have a sort of protection [from Russia]. What do [western countries] want? Leave all our national interests because someone needs something for themselves?" he said, referring to Ukraine and a western desire for unity over the Russian invasion.
"People talk about choosing sides. No, we have our own side, Serbia's interests. We were bombed by 19 Nato countries [in 1999] and sanctioned," Vucic said, referring to Nato's intervention to try to put an end to a bloody war in Kosovo between Yugoslavia and separatist ethnic Albanian militants. "We haven't imposed sanctions against anyone because . . . we don't believe sanctions change anything. You can pressure and force Serbia but this is our genuine opinion."
The comments from Vucic, who won a new five-year term in an election this month, suggest that Belgrade would stick to its accommodating line towards Russia and China despite pressure from Brussels. EU leaders have consistently stressed in public that they see Serbia as a future member of the bloc, but have privately expressed rising irritation at Belgrade's ties with Moscow and Beijing.
However, officials in Brussels and inside member states were fearful of taking too hard a line against the Balkan country and playing into the hands of Russia and China. Russia's war on Ukraine has prompted calls from some in the EU to speed up membership talks as a way of drawing the Balkans more firmly towards the west. /FT