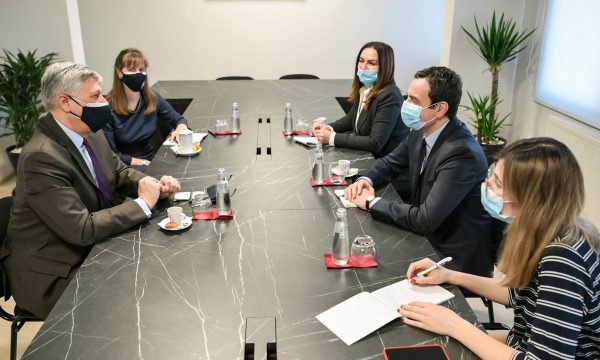 The US Ambassador to Kosovo, Philip Kosnett, met Tuesday the Vetevendosje leader Albin Kurti after his party won 14 February election, according to a note posted by him on Twitter.
Ambassador Kosnett said that he congratulated Kurti on winning the election and urged parties to work quickly and establish a government and the Parliament to address pressing challenges in the country.
With 100 percent of regular votes counted, Albin Kurti's party has secured almost 47.85 percent of the votes, breaking the record for the most votes won by any party in Kosovo. The Democratic Party of Kosovo (PDK) is ranked as second with 17.41 percent of votes a considerable decline comparing with previous election.
Below is the full post of US Ambassador:
"Pleased to meet with Albin Kurti to congratulate Vetevendosje on its victory and discuss Kosovo's path forward.  We urge parties to work quickly to establish a government and Assembly to serve all citizens and address pressing challenges."
/argumentum.al