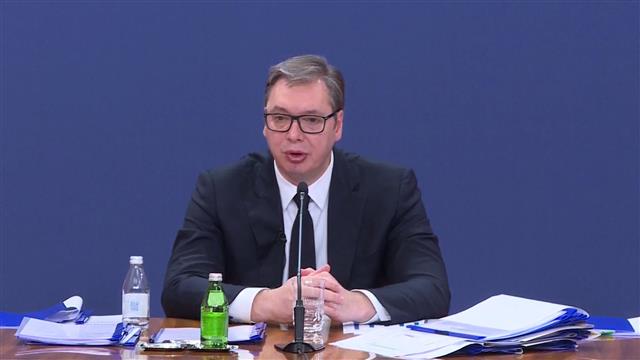 BELGRADE – Serbian President Aleksandar Vucic said late on Friday almost no one from Western countries talked about normalisation of Belgrade-Pristina relations, but exclusively about a mutual recognition, in order to deprive Russian President Vladimir Putin of arguments regarding Russia's recognition of the self-declared Donetsk People's Republic and the Lugansk People's Republic.
"Out of a desire to protect Russian interests, Putin found a political and legal foundation for an incursion into Ukraine, using a precedent set by Western countries in Serbian territory following a ruling by the International Court of Justice in The Hague that said the declaration of independence of Kosovo is not contrary to international law," Vucic said in a public address.
"Putin will tell the West that he has carried out an action in Ukraine to prevent genocide or a humanitarian disaster, and that, as opposed to Kosovo, there has been a referendum in the Crimea. Since they understand that this argumentation is not weak…, that is where we come to our biggest problem, because the entire West will request that Serbia move quickly towards recognising Kosovo so that they can tell Russia it is not an identical case and so that there is no legal precedent," Vucic said.
That does not mean Russia will recognise Kosovo, Vucic said.
"It will not, but Serbia will be under great pressure to recognise Kosovo so that Putin cannot use Kosovo as an argument for what is going on in Ukraine," he said.
"That is why we will now be under the biggest pressure," Vucic warned.
He said nearly all Western leaders he had spoken with over the past month had exclusively requested a mutual recognition with Pristina.
Responding to a reporter's question about requests for Serbia to join Western sanctions against Russia, Vucic said no one used the language of threats when discussing the issue with him, but that the expectations from Serbia were made clear in every conversation.
"My job is to take that for as long as I can. I will inform the citizens if I am unable to. Serbia certainly has significant problems that it is facing due to the fact it has not imposed sanctions, there is no doubt about that," he said.
"We are requesting nothing from the Russians, that is the price of our policy," Vucic added./Tanjug