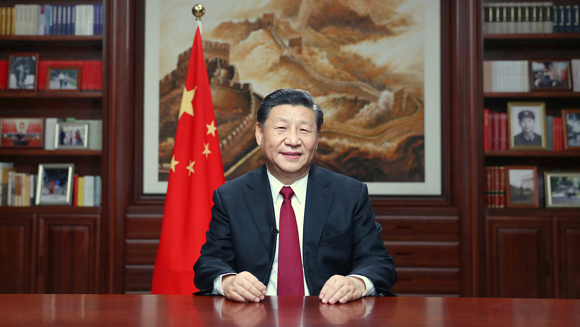 Chinese President Xi Jinping has announced that China has secured a "complete victory" in its fight against poverty.
Xi, also general secretary of the Communist Party of China (CPC) Central Committee and chairman of the Central Military Commission, said on Thursday absolute poverty has been eradicated in the world's most populous country, home to over 1.4 billion people, according to Xinhua.
Xi made the announcement while addressing a grand gathering held in the Great Hall of the People in Beijing to mark the nation's poverty alleviation accomplishments and honor model poverty fighters.
With absolute poverty eliminated, China has created another "miracle" that will "go down in history," Xi said in a televised speech.
The high-profile event was presided over by Premier Li Keqiang and attended by other senior Party leaders.
Under Xi's leadership, China launched a monumental anti-poverty campaign on a scale unseen anywhere in the world.
Over the past eight years, the final 98.99 million impoverished rural residents living under the current poverty line have all been lifted out of poverty. All 832 impoverished counties and 128,000 villages have also been removed from the poverty list.
The country has met the poverty eradication target set out in the United Nations' 2030 Agenda for Sustainable Development 10 years ahead of schedule.
Combined with poverty-reduction results since the late 1970s, China is responsible for over 70 percent of the global reduction in poverty over the period, World Bank statistics have shown.
UN Secretary-General Antonio Guterres acknowledged the success of China's anti-poverty campaign over the past few years, calling it "the most important contribution" to the global poverty reduction cause.
"No country has been able to lift hundreds of millions of people out of poverty in such a short time," Xi said.
Funds were channeled to assist the fight. Nearly 1.6 trillion yuan (about 246 billion U.S. dollars) of fiscal funds have been invested into poverty alleviation over the past eight years.
Shaking off poverty is not the finish line, but the starting point of a new life and new endeavor, Xi said in the speech, demanding efforts to consolidate poverty alleviation achievements and initiate a dovetailing drive of "rural vitalization."
At Thursday's gathering, Xi presented medals, certificates and plaques to role models from the country's anti-poverty fight. He also joined other Chinese leaders in presenting awards to individuals and groups for their outstanding achievements in the fight against penury.