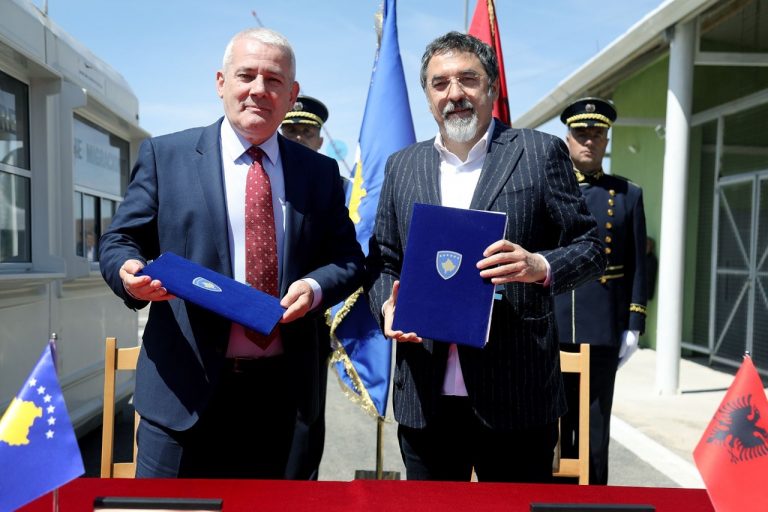 TIRANA, April 16 – Albania and Kosovo inaugurated on Saturday the new joint border point Shishtavec-Krushevo, while it is expected that the inhabitants of the border zone areas will move freely in both countries very soon.
"Our joint agenda started with the signing of three agreements and this is one of the important steps in the implementation of these agreements. We should consider it (Kosovo) a country, not a foreign one, but a country that temporarily has some regimes that complicate our mobility a bit, but very soon we will remove them and I am confident that our generation will live and enjoy this vision that we have in mind and which is the will of the two governments in Albania and Kosovo," said Interior Minister Blendi Cuci who attended the ceremony together with his Kosovo counterpart Xhelal Svecla. He further said that the opening of this joint border point will unleash the tourism development potentials of the area.
"Both sides of the border are areas with tremendous potential for tourism development, which can be frequented by tourists from both countries, but also by foreigners who are not few in this area," said Cuci.
The Minister of Interior of Kosovo said that the opening of this new joint border point is a proof of the will of the two governments in Pristina and Tirana to overcome all obstacles and make life easier for the citizens.
"Until today, this border point has been of category C. From today it passes to category B. This means that from a part-time job, we will now have a border point that will serve the citizens 24/7. Passing in category B, we will have a border point that will serve the citizens of third countries," said Minister Svecla.
The two ministers signed a Protocol for the Conduct of Joint Border Control Activities in Shishtavec-Krushevo area. /Argumentum.al