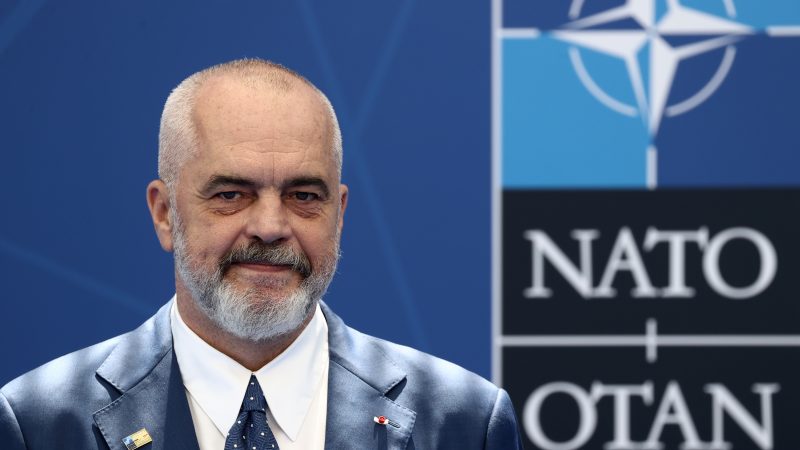 Albanian Prime Minister Edi Rama is set to meet NATO chief Jens Stoltenberg in Brussels this week amid plans to turn a port on the country's Adriatic coast into an Alliance naval base.
This comes just months after work started to convert a former base full of ex-Soviet planes in 'Stalin City', now Kucova, into a NATO airbase.
Albania has been a member of NATO since 2009 and since then has worked hard to meet its obligations. While defence spending sits at 1.5355% as of 2020, the country was home to the NATO Defender 2021 mission, and it has been quick to align itself with the alliance amid the ongoing war in Ukraine.
Rama will meet with the NATO chief on Wednesday to discuss the project he first announced during a press conference on 1 July. The port will be located in Porto Romano, Durres, 40 minutes from the capital of Tirana and will comprise a commercial section and a military naval base. Financing will be provided by both the Albanian state and NATO.
"We will soon go back to Brussels to continue our discussions regarding our proposal…for the installation of a NATO naval base in the new port in Durres," said Rama.
In May, Rama said his government had offered the Pashaliman naval base south of Tirana to NATO. Located south of Vlore, some 200 kilometres from Durres, it was the only Soviet Union base in the Mediterranean during the 1950s at a time when Albania's communist regime was aligned with Moscow.
After the collapse of communism, it was rebuilt with the help of Turkey, which retained the right to use it. The Albanian navy still uses the base for some operations and exercises today. That option appears to have been tabled in favour of Porto Romano.
NATO is also transforming a former communist-era military airbase in Kucova, previously known as Stalin City. The 350-hectare airbase is currently home to many out-of-use Soviet-era and Chinese MiGs, Antonovs and Yak-18s.
Reconstruction works began in January to the tune of €50 million, with the base set to be operational in 2023. It will provide ammunition storage and act as a refuelling centre, and work is being carried out to build new storage units, restore the runway, and modernise the existing control tower.
The original base was built using prison labour under the regime of communist dictator Enver Hoxha. Following almost 50 years of isolationism, Albania emerged and turned to the West, joining the alliance in 2009 and hoping to join the European Union, although it has remained in the bloc's waiting room for quite some time./exit.al