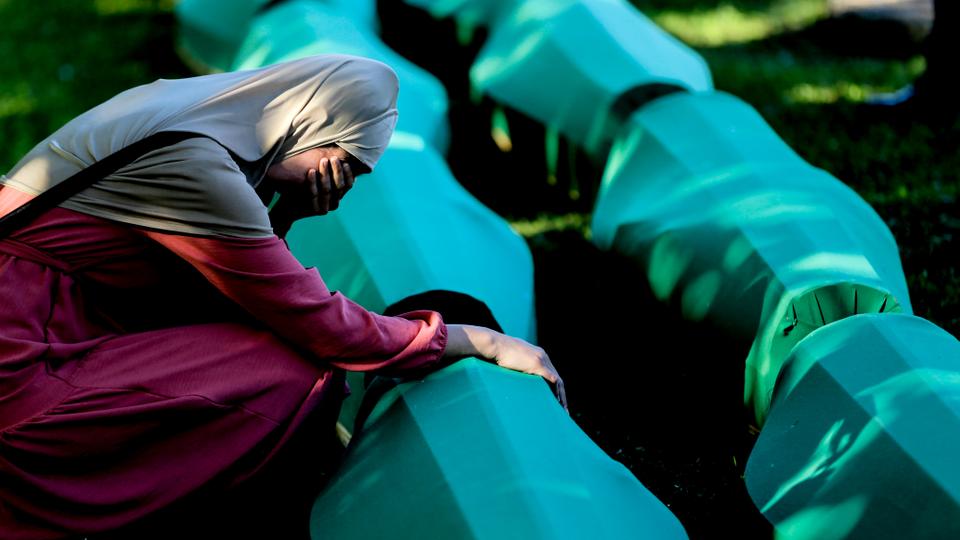 More than 8,000 Muslim Bosniaks were massacred within 10 days by Bosnian Serb troops under the command of General Ratko Mladic in the final months of Bosnia's fratricidal 1992-95 war.
Thousands of people gathered in Bosnia to commemorate the 1995 Srebrenica massacre, Europe's only internationally recognized genocide since World War II, and to bury 50 more victims recently found in mass graves and identified through DNA analysis.
More than 8,000 men and boys from the predominantly Muslim Bosniak ethnic group were killed in 10 days of carnage after the town was overrun by Serb forces in the final months of the Bosnian war.
EU Chief Diplomat Josep Borrell and Enlargement Commissioner Oliver Varhelyi spoke on the anniversary of the Srebrenica massacre.
"Europe has not forgotten what happened in Srebrenica and our responsibility for not being able to prevent and stop the genocide," said a statement.
"In Srebrenica, Europe failed and we have faced our shame."
The two diplomats added that the war in Ukraine has brought "vivid memories of those who witnessed the war in the Western Balkans in the 1990s".
"As we see the security and stability of Europe and the rules-based international order deeply shaken, we are reminded of the need to stand up to defend peace, human dignity and universal values."
Bosnian Serb military chief General Ratko Mladic and his political aide Radovan Karadzic are now serving life sentences for war crimes, including genocide.
Although the Srebrenica massacre was called genocide by international and domestic courts, Serbian officials and Bosnian Serbs still downplay or deny the crimes.
/Argumentum.al