TIRANA, April 27 – A group of US and EU energy market leaders met in Tirana on Wednesday to discuss involvement in implementing Albania's ambitious plan to transform itself into a net energy exporter.
At the conference, which was also attended by Prime Minister Edi Rama, Minister of Infrastructure and Energy, Belinda Balluku stressed in her speech the importance of Wednesday's conference at a critical moment for the energy situation worldwide as the international crisis has not spared no state. According to her, reliance on concentrated resources clearly affected the international markets, highlighting the weaknesses of the situation and the current scheme of the energy supply chain.
"We have started with the large photovoltaic parks to diversify the energy security portfolio in the Republic of Albania and we are already in the construction phase of the two largest photovoltaic parks, probably in the Balkans, which are Karavasta and Spitalla parks that are being built by the French company. 'Voltalia'," she said, adding Skavica will be the fourth hydropower plant on the Drini River cascade in northern Albania whose construction has started with a valuable partner, 'Bechtel' company.
Vlora TPP is a real project for its implementation with our partners 'Exon Mobil' and 'Excelerate Energy', said Balluku.  "While, according to her, the navigable port in the Bay of Vlora that will supply the TEC and will transform Albania into a regional hub of liquefied gas distribution on a small scale has been the initial vision we had for this integrated project."
The Minister also praised the contribution of the US Ambassador in Tirana, Yuri Kim for finding serious partners for the Vlora power plant, a project which, according to her, will be transformed into an integrated project and from a local project to a regional project that will bring benefits to all.
While the Prime Minister Edi Rama invited the participating countries and companies to cooperate without wasting time to implement projects in the energy field and to create a new architecture of the Albanian energy sector.
He mentioned his visit to Azerbaijan a few days ago, where President Aliyev expressed interest in the Ionian gas transmission project.
"I saw with pleasure in his words the high interest to be involved in the new Adriatic-Ionian pipeline, which may be another major game changer in our region, but at the same time can be a force energetic for Europe "- said Mr. Rama.
"Thank you very much for coming to Tirana and proving your interest in working together to develop what is really an important ambitious change program for Albania, a change program for the region, and it is not even discussed that it is an added value that this change can possible through the channeling of the efforts and energies of the actors arriving and coming from the USA, Europe, Azerbaijan and I hope even more will join us in the future. A few days ago I had the honor to visit President Aliyev and with pleasure I felt and witnessed in his words the high inversion that will be included in the Ionian-Adriatic pipeline which may be another major game changer for our region, but "At the same time, it can be a power, a new energy for Europe to gain independence from Russian gas as soon as possible."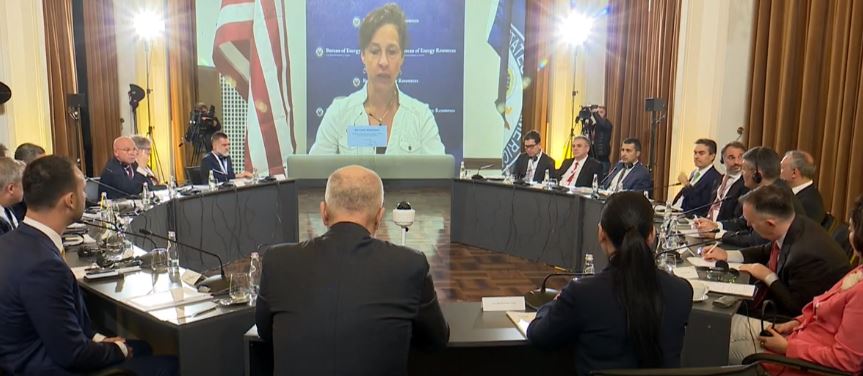 Also U.S. Ambassador Yuri Kim joined U.S companies Excelerate and Exxon, as well as partners, energy leaders and stakeholders from different countries of the Western Balkans regions, EU, and beyond at "Beyond Borders: Towards a sustainable energy market and low carbon economy," a regional energy conference organized by Albgaz and the Albanian Ministry of Infrastructure and Energy.
The Ambassador remarked that Russia's unprovoked and unjustified invasion of Ukraine has intensified the need for urgent action to diversify and secure the sources, suppliers, and routes of energy. Addressing the conference, U.S. Deputy Assistant Secretary for Energy Diplomacy in the Bureau of Energy Resources Laura Lochman said that "the Biden Administration has made very clear that promoting Europe's energy security in ways that align with climate goals is a top policy priority even before Russia began its violent war in Ukraine. U.S. policy has consistently focused on increasing the diversification of energy resources by suppliers, routes, and fuel types, including nuclear, renewables, and, in certain cases, liquefied natural gas… I congratulate Albania on its leadership and foresight in energy planning to develop projects like Vlora and Skavica, to diversify the region's supply of natural gas, increase its mix of renewables, and reduce its reliance on coal. These projects will ensure energy security for itself and the region going forward.
The future projects were unveiled as Albania is passing through a deep energy crisis reflected in the steep increase of the prices of fuels while a scheme is being framed to increase the price of energy. As a chain reaction there is a massive hike of prices across Albania, the poorest country in the Western Balkans and Europe. The speakers in the Conference did not touch upon this issue which is happening focusing on the future without a time limit. /Argumentum.al