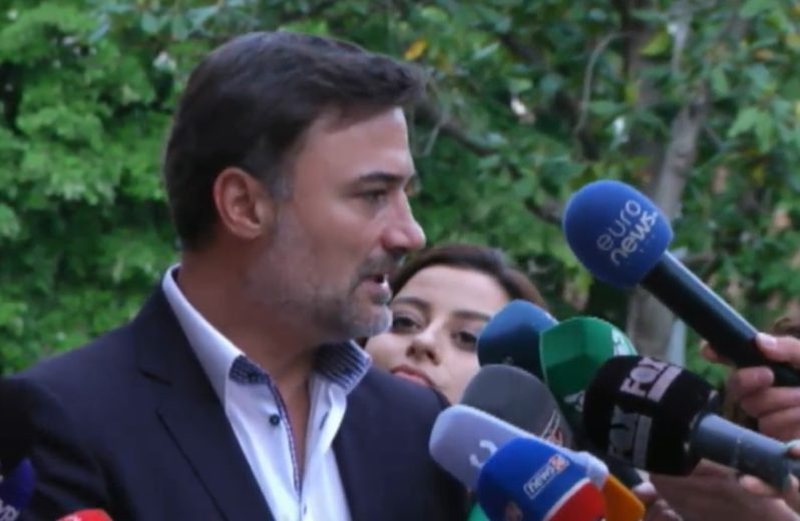 TIRANA, May 20 – The chairman of the parliamentary group of a faction of the Democratic Party (DP), Enkelejd Alibeaj, canceled the meeting of the group that was expected to take place on Friday after the decision of the Socialist Party (SP) to change the stance regarding the presidential election process, which requires only one name from the opposition.
The 26 deputies of the Democrat group proposed on Thursday 8 names out of whom 4 would be selected to present them to the Socialists.
Alibeaj accused the Socialist Party of violating the agreement reached between the parties, referring to a statement by Taulant Balla who said that the DP should nominate the candidate with its signatures.
"Our actions, our acts have been done in the eyes of the public. We started this process to create a process for the election of the president of the Albanians, a figure above the parties, neutral, comprehensive process," he said, adding that he did not know the reason for the change of stance of SP.
"We would identify 4 candidates, the SP would choose 2 and then a consensual candidacy would be picked up and the final act would be that a commission of 6 members would review the 2 selected candidates and agree on the selection of one," revealed Alibeaj.
But the SP said it stood by the agreement with the opposition and in the 2nd and 3rd rounds will not nominate candidates for president.
"We have been very clear. We propose neither in the second round nor in the third round. But the opposition has every chance of not wasting the two rounds. Let them come up with more names. We need to be heard," he said, adding that SP did not agree on the selection of an opposition candidate. "We have the right to propose," said Balla.
"We will wait for the 4th round. I call upon opposition to return to the table," he said.
In face of these developments the DP deputy Ervin Salianji said on Friday everything seems like in a theater knowing the end. "Opposition got an unnecessary cost," Salianji said, hinting that everything was done by Alibeaj to show himself as a protagonist. /Argumentum.al