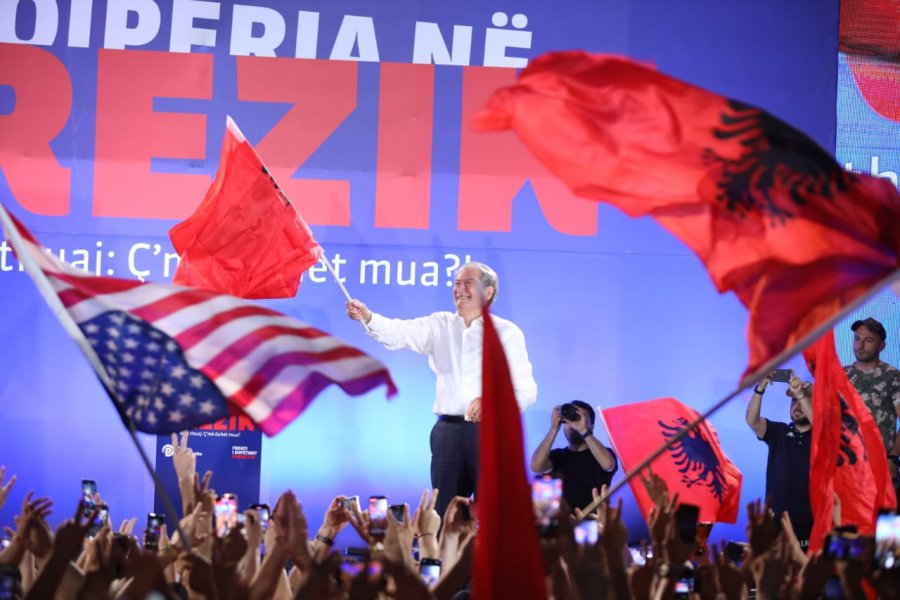 Editor's take
TIRANA, July 7 – "Edi Rama, we are both enemies, it is hard to say this, but my heart does not say anything else. You only want power, while I, with these men, women, boys and girls, have the principle of freedom and only freedom."
This was the message that the Chairman of the Democratic Party (DP), Sali Berisha, conveyed to Prime Minister Edi Rama in front of thousands of citizens, supporters of the opposition, and representatives of civil society coming from different parts of Albania in the protest organized by the Opposition Front for the salvation of Albania in Tirana on Thursday.
The crowd gathered in front of the government office which was heavily guarded by more than 1200 special police forces. The main gate and windows of the
building were blinded, but anyway no incidents happened. It was reported that PM Rama was in the southern town of Vlora, a Socialist stronghold in Albania.
"Albania in danger" and "don't say: what do I need?" were the main messages of the DP in the protest.
Earlier Berisha had asked Albanians for unity around national causes such as depopulation, high prices, declining economy and denationalization through the Open Balkans in an intensive tour of meetings across Albani. He keeps holding responsible PM Edi Rama for the situation.
"We are enemies, Edi Rama, because you want power to enrich yourself by impoverishing and humiliating the citizens, while I and these protesters here want freedom to make Albanians free, to restore their dignity," declared Berisha.
Among other things, Berisha said that Rama stole the vote of the citizens and is staying in power with the stolen vote.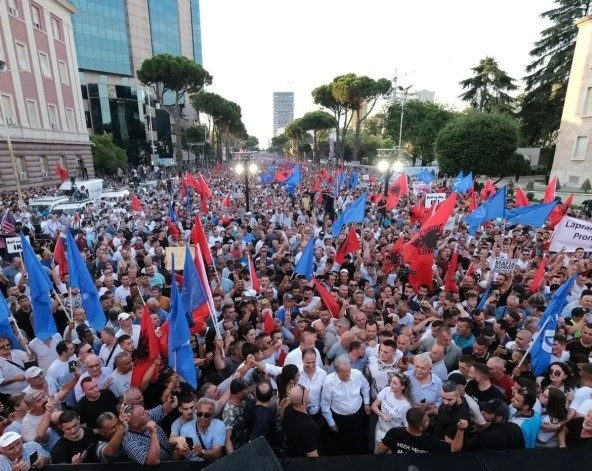 In the meantime he expressed the hope that the EU will open the accession negotiations with Albania saying that Rama does not want those talks.
"We hope that the EU decides to open negotiations this week. And I call on them from this rostrum to open negotiations with Albania and not to punish the Albanians because of Edi Rama, who wants everything, but not negotiations, because they will bring him out naked as it is- the demon of power, the arch thief of Europe," said Berisha.
At the end of the speech, the DP chairman made a call to Albanians who hesitated to join the protest. The silence is imposed, Berisha said, conveying a message to professional Albanians in various fields who are suffering the consequences of Edi Rama's bad governance.
The Socialist Movement for Integration (SMI) chairwoman, Monika Kryemadhi and her supporters joined the protest. She was also key speaker focusing on the government corruption. Kryemadhi took the opportunity to denounce the corrupt scheme of incinerators following scandalous evidence denounced by her over the last days.
The protesters dispersed peacefully after 9 o'clock as it was foreseen in the request made by the organizers of the event to police.
/Argumentum.al