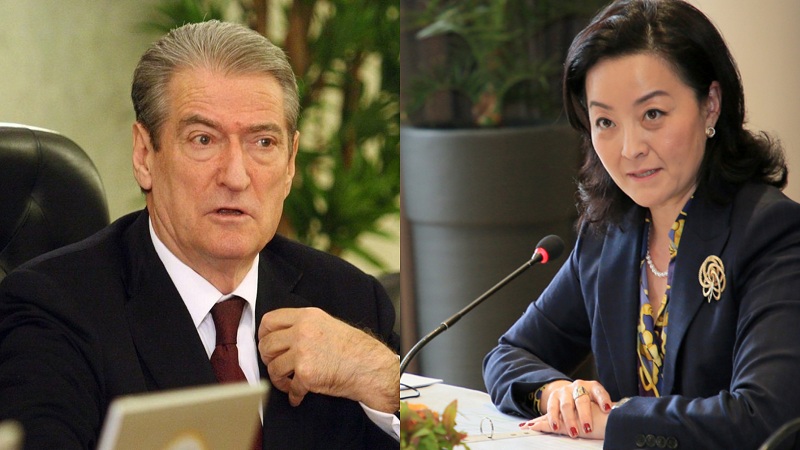 TIRANA, April 22 – The veteran leader of the Democratic Party (DP), Sali Berisha, commented on the statements made by the American ambassador, Yuri Kim, on Thursday calling them ridiculous intervention by the governor, who seeks to impose on the opposition what accusations she should make.
Further, Berisha said on a local TV on Thursday that Kim is interfering in the case of DP at the court of appeals, holding meetings. In a public message to the US government Berisha said the following:
"A ridiculous intervention by the governor. I stress that the puppetry time is over. Today there is real opposition. No one can dictate to the opposition the accusations it should or should not make. Because I saw there is concern about the accusations. Forget who tries to dictate.
"I publicly express my regret for her direct interference in the judicial process. Last week I informed you that the governor has recently been holding meetings for the judicial process, which has absolutely no legal basis because, according to the procedures, which is not a party is not considered a party. I urge the US government to stop its representative from interfering in the proceedings in Albania."
He added that there are three sources that confirm Yuri Kim's interventions in court.
But the US Ambassador kept the polemics in high tones saying that what she was doing was not 'interference'.
Below is what she said in a note on Twitter on Friday: "Interfering in the judicial process" means encouraging judges and prosecutors to do their jobs despite threats or inducements, making clear the US will continue to support implementation of justice reform in Albania, underlining that no one is above the law, and urging that all of us must do our part to fight against corruption and impunity, then YES, the US has done and will continue to do exactly that – because the fight against corruption and efforts to undermine democracy constitute a core US national security interest. Memorandum on Establishing the Fight Against Corruption as a Core United States National Security Interest." /
/Argumentum.al