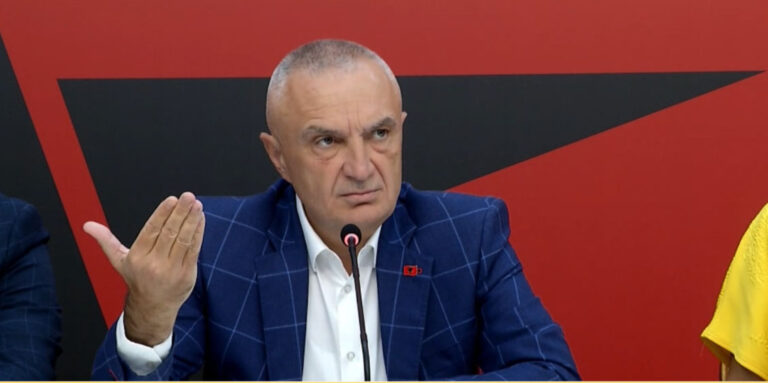 TIRANA, July 29 – The head of the Freedom Party, whose name was Socialist Movement for Integration, Ilir Meta said in a press conference on Friday that the File Authority will be held responsible for the inclusion of his name as a collaborator of the former state security body called 'Sigurimi i Shtetit' while he pointed his finger at PM Edi Rama as the architect of this unscrupulous scheme. 
The Albanian Authority for Access to Information on Ex-Sigurimi Files is a state agency established in 2016 to collect the archive of the notorious Communist-era Sigurimi secret service, declassify information and provide those who were victims of the regime, or their relatives, with access to their files.
Meta said this is an orchestrated act and that he knows the perpetrators, while adding that such an act is done to draw attention from the thefts and scandals of the government.
"This act is masterminded with the ugliest methods of ex-sigurimsa (former members of the state security) to divert attention from the heinous robberies and catastrophic failures of the country's governance and to blackmail deputies, politicians, businessmen, etc.," said Meta.
According to him, the Authority knows that Ilir Rexhep Meta was not an accomplice of the State Security as it was proven in 1996, at the time of the 'great' Berisha and in the commissions, but they also know who was the accomplice in the specific case because it is in two files.
In addition Meta, a former President, said that this case shows how criminal the gang in power is and he mentioned the criminal assassination of a young man during the pandemic curfew, who went out to buy cigarettes and they killed him and then blamed the victim.
"They will bear legal responsibility for this matter and it is being studied. I am 1 million percent clean, and (the heads of this institution) know this very well and know the history. I know the source of this intrigue is to manipulate public opinion," said Meta.
The file authority knows that there is no SPAK or prosecutor that saves it from these legal responsibilities. He said that his family is used to such accusations. "I don't know what is wrong with the family of those who, because of Edi Rama's cruel games, know neither law nor human morality. He (Rama) who is proud of his father (the late Kristaq Rama) who hanged the poet in the middle of Kukës in 1989 is very worried about this case."
/Argumentum.al