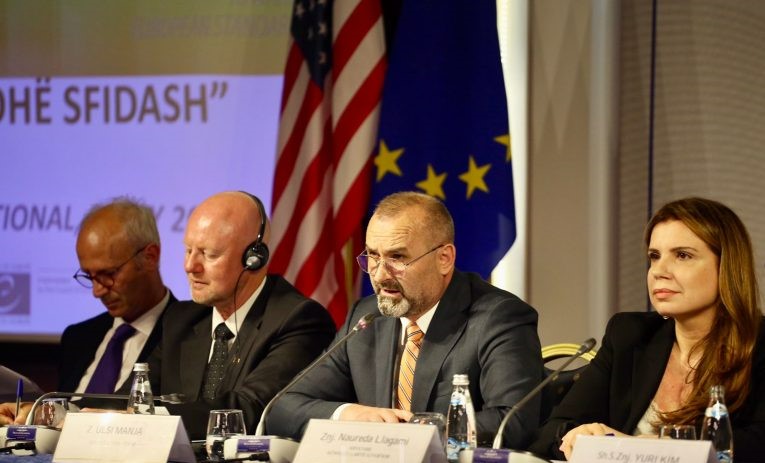 TIRANA, May 9 – Minister of Justice Ulsi Manja has demanded that former Prime Minister Sali Berisha be brought to justice. During his speech at the conference "Justice in times of challenges", Manja said that Berisha should be investigated for the murders of January 21, deadly ammunition explosion in Gërdec, the Cez / Dia case and the 'Partizani' complex.
Speaking of the achievements of the judiciary reform he referred to the 'elephant in the middle of the new chamber of justice' implying the Democrat veteran leader, Sali Berisha.
That gentleman declared "non grata", as a knight of corruption and against democracy by the vital ally of Albania the US is not the problem of America, but of Albania. "Albanians deserve to know how the new justice stands in relation to this serious issue for the Albanian state, which the American Government has said very clearly that it is up to the Albanian institutions to investigate and judge!" said Manja.
Further on he said Berisha is famous for his opposition to the law and the judiciary, to whom he even slammed the door in the face, preventing the execution of their orders after the murder of four citizens on the boulevard.
"However, he has never been called by the judiciary, neither for those murders, nor for the whole criminal ammunition explosion that blew up hundreds of houses and took dozens of lives, nor for other dizzying corruption scandals, where his last name has been the cherry on the cake of plunder," said the Justice Minister.
During his speech, the minister also said that May 9, "Europe Day", has come with another weight in light of the recent war in Ukraine. Manja stressed that Albania wants the war to end and peace to triumph. /Argumentum.al