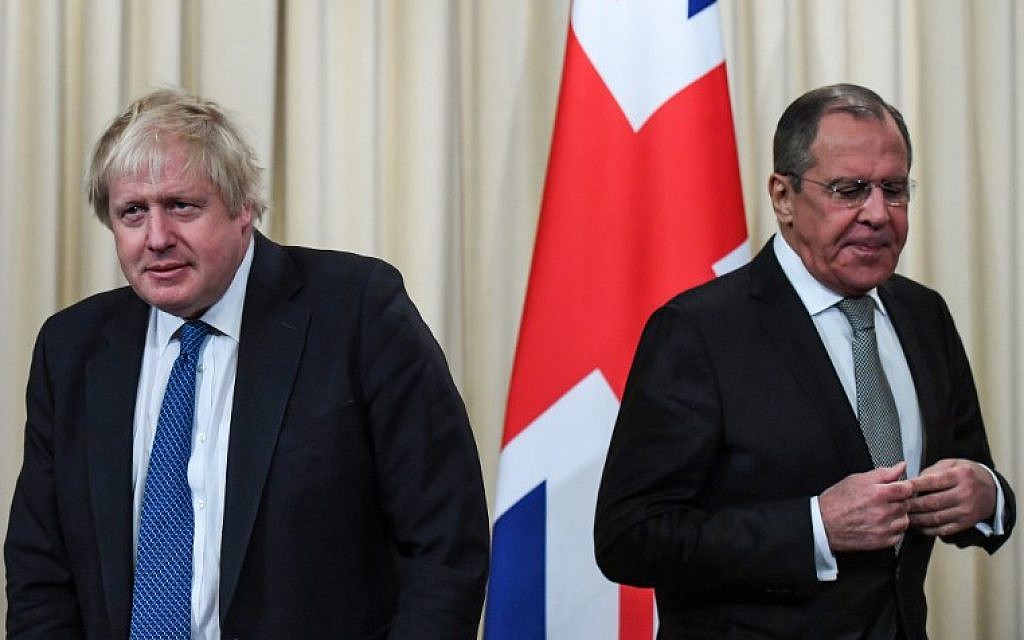 The diplomatic chasm between Russia and the West deepened further Saturday, as Moscow barred British Prime Minister Boris Johnson and a dozen other top UK officials from entering the country in response to British sanctions.
The ministry's statement cited "unprecedented hostile actions of the British government, expressed, in particular, in the imposition of sanctions against top officials" in Russia.
"The Russophobic course of action of the British authorities, whose main goal is to stir up negative attitude toward our country, curtailing of bilateral ties in almost all areas are detrimental to the well-being and interests of the residents of Britain. Any sanctions attack will inevitably backfire on their initiators and receive a decisive rebuff," the statement said.
Among the others on the banned list are Deputy Prime Minister Dominic Raab, Foreign Secretary Liz Truss, Defence Secretary Ben Wallace, former Prime Minister Theresa May and Scotland's First Minister Nicola Sturgeon.
In mid-March Russia announced a similar travel ban on US President Joe Biden and other US officials. Western countries including the US, the UK and the EU have targeted Russian President Vladimir Putin and other senior officials with sanctions.
On Friday evening, the ministry announced the expulsion of 18 European Union diplomats from Moscow, in retaliation for the bloc's declaring 19 diplomats from the Russian mission to the EU and to the European Atomic Energy Community persona non-grata.
In the meantime it is reported that Russian forces are expected to begin a new big offensive in the east of Ukraine after their retreat from the Kyiv region and other parts of the country.
Below are Saturday's main events:
-President Zelenskyy has warned Russia not to "eliminate" the last Ukrainian troops in Mariupol, or it would mean the end of peace talks.
-One person was killed and several were wounded in Russian strikes on targets in eastern Kyiv, the city's mayor says. Russia's defence ministry claimed its forces struck a military equipment factory in the Ukrainian capital.
-Volodymyr Zelenskyy said Friday that existing sanctions on Russia are "painful" but not yet enough to stop the Russian military. He called for "the democratic world" to ban Russian oil.
-CIA Director William Burns has said no one "can take lightly" the threat that Russia could use tactical or low-yield nuclear weapons but he has seen no "practical evidence" suggesting it is imminent. Zelenskyy echoed those words, saying the world should be worried about how Putin might react to military setbacks.
-The Ukrainian president has said about 2,500 to 3,000 Ukrainian troops have been killed in seven weeks of war with Russia and about 10,000 injured.
-Ukraine's deputy prime minister said nine humanitarian corridors were agreed for Saturday, including from Mariupol. / Compiled from wires by argumentum.al