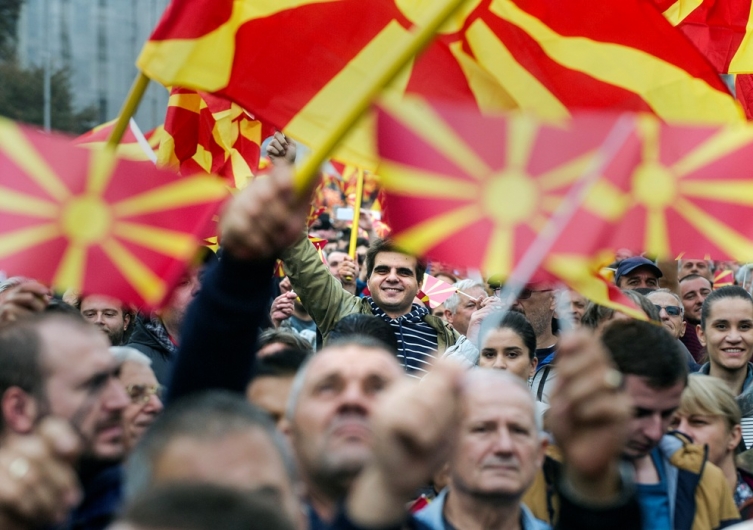 TIRANA, July 5 – Thousands of people protested for the third night in North Macedonia's capital against a French proposal that seeks to end a dispute with Bulgaria that is blocking Skopje's bid to join the European Union.
Some of the protesters in the July 4 rally threw paper towels, plastic bottles, water balloons, and eggs at government buildings in the capital. Some hung flowers on police shields.
Demonstrators say the proposal "Bulgarianizes" the country and does not recognize the Macedonian language and history.
The protests, backed by the center-right VMRO-DPMNE opposition party, came after French President Emmanuel Macron said he believed a compromise was near over the long-standing dispute to end Bulgaria's veto of North Macedonia's EU membership.
Macedonian Prime Minister Dimitar Kovachevski said the French proposal was a "solid base for building a responsible and statesmanlike stance on the possibility that opens up to our country."
However, VMRO-DPMNE and other right-wing opponents demand the government reject the plan, saying it concedes too much to Bulgaria in a dispute over history, language, identity, and culture.
Bulgaria, which has been an EU member since 2007, had insisted that North Macedonia formally recognize that its language had Bulgarian roots, acknowledge in its constitution a Bulgarian minority, and renounce what it said was "hate speech" against Bulgaria.
North Macedonia has said its identity and language aren't open for discussion.
The French proposal would have Skopje include ethnic Bulgarians in its constitution "on an equal footing with other peoples" and change history textbook, among other items, some not yet publicly disclosed.
North Macedonia's government is expected in the next few days to present the proposal to parliament.
Charles Michel, president of the European Council, is scheduled to visit Skopje on July 5 to offer support for the French proposal as a compromise between Skopje and Sofia.
It's to be seen if EU's accession talks with Albania will start as promised by the number two of the ruling Socialist Party, Taulant Balla in plenary session of Parliament last week.
/Argumentum.al