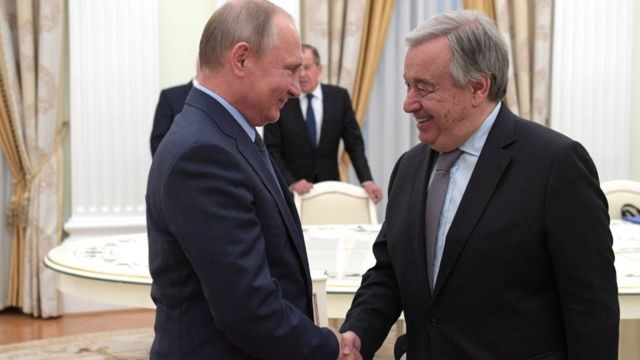 Vladimir Putin said Russia is hoping for "some sort of positive result" from peace talks with Ukraine even as he cast doubt on their progress two months into his invasion of the country.
Speaking from behind an enormous table at a meeting in the Kremlin with UN secretary-general António Guterres on Tuesday, Putin said initial progress on the talks had faltered and blamed Ukraine for changing its position.
Although Kyiv and Moscow agreed to a draft communique at a meeting in Istanbul in late March, the talks began to falter when the former discovered alleged atrocities against civilians in Ukrainian towns occupied by Russian forces, such as Bucha.
Putin said the sides reached a "fairly serious breakthrough" in Istanbul because Ukraine agreed to put its claims to territories seized by Russia — including Crimea and the Donbas border region — "off the table with certain reservations", while discussing future guarantees of its security.
But after Ukraine claimed Russia committed war crimes in Bucha, which Putin said "the Russian army had nothing to do with", Ukraine's position "changed dramatically".
Ukraine instead requested that Putin resolve the territorial disputes one-on-one with Volodymyr Zelensky.
"It's clear to us that if we bring these issues up to the head of state level without at least solving them preliminarily as part of the draft agreement, they'll never be resolved," Putin said. "We just can't sign up to security guarantees without solving the territorial issues with Crimea, Sevastopol, and the Donbas republics," which Russia recognises as independent.
People briefed on Putin's thinking say the Russian leader wants to seize as much territory from Ukraine as possible before reaching a possible settlement.
Ukraine claimed Russia denied its request to organise humanitarian corridors to evacuate the remaining civilians and its forces from the Azovstal steelworks plant, the last Ukrainian holdout in the war-torn city of Mariupol, and failed to hold to its pledges for a ceasefire.
Putin told Guterres Russia's humanitarian corridors are working and that Guterres has been "deceived". The Russian president called for Ukraine's forces to let the civilians out of Azovstal, "otherwise they are acting like terrorists". /FT