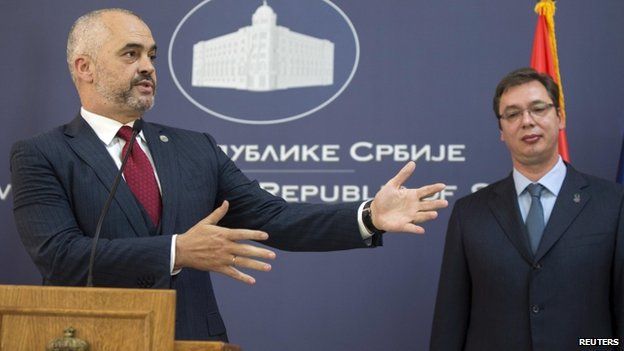 TIRANA, April 20 – The Prime Minister of Albania, Edi Rama has said in an interview for the German newspaper "Die Welt" that the region of the Western Balkans is "unprotected" from Russian influence and there is a risk of instability.
"The region is vulnerable because Russian influence is very strong, not in Albania, but in Bosnia, Montenegro and especially in Serbia," Rama said.
Asked if Albania would change its stance on Serbia's pro-Russian tendency, Rama said it would have cut off cooperation if it went against the West at the UN.
"Serbia is not going to Russia. Rather, strangely enough, it sided with the West in condemning Russian aggression at the UN General Assembly. It is a very good sign that Serbia voted three times against Russia. If Serbia had done the opposite, it would have been a serious blow to our cooperation," Rama said.
However, although Prime Minister Rama tries to present the Serbian vote as pro-Western and a new turn of it from the West, Vucic himself says the opposite. He does not hesitate to criticize Western sanctions against Russia, and even the vote against Russia at the UN Vucic called blackmail.
Serbia wanted to abstain from voting on the suspension of Russia from the United Nations Human Rights Council, but due to pressure voted in favor of the resolution.
This is what Serbian President Aleksandar Vucic said during a television interview shortly after the Serbian vote at the UN.
"Our decision has been to be restrained, and then come the countless, severe pressures that have nothing to do with the personal side. No one has blackmailed me, but they are blackmailing the country," said the Serbian president, adding that Serbia is a neutral country militarily, but not politically.
It seems that Vucic's statement itself does not matter to Prime Minister Rama. What matters to the latter is what he believes in his friend. /Argumentum.al