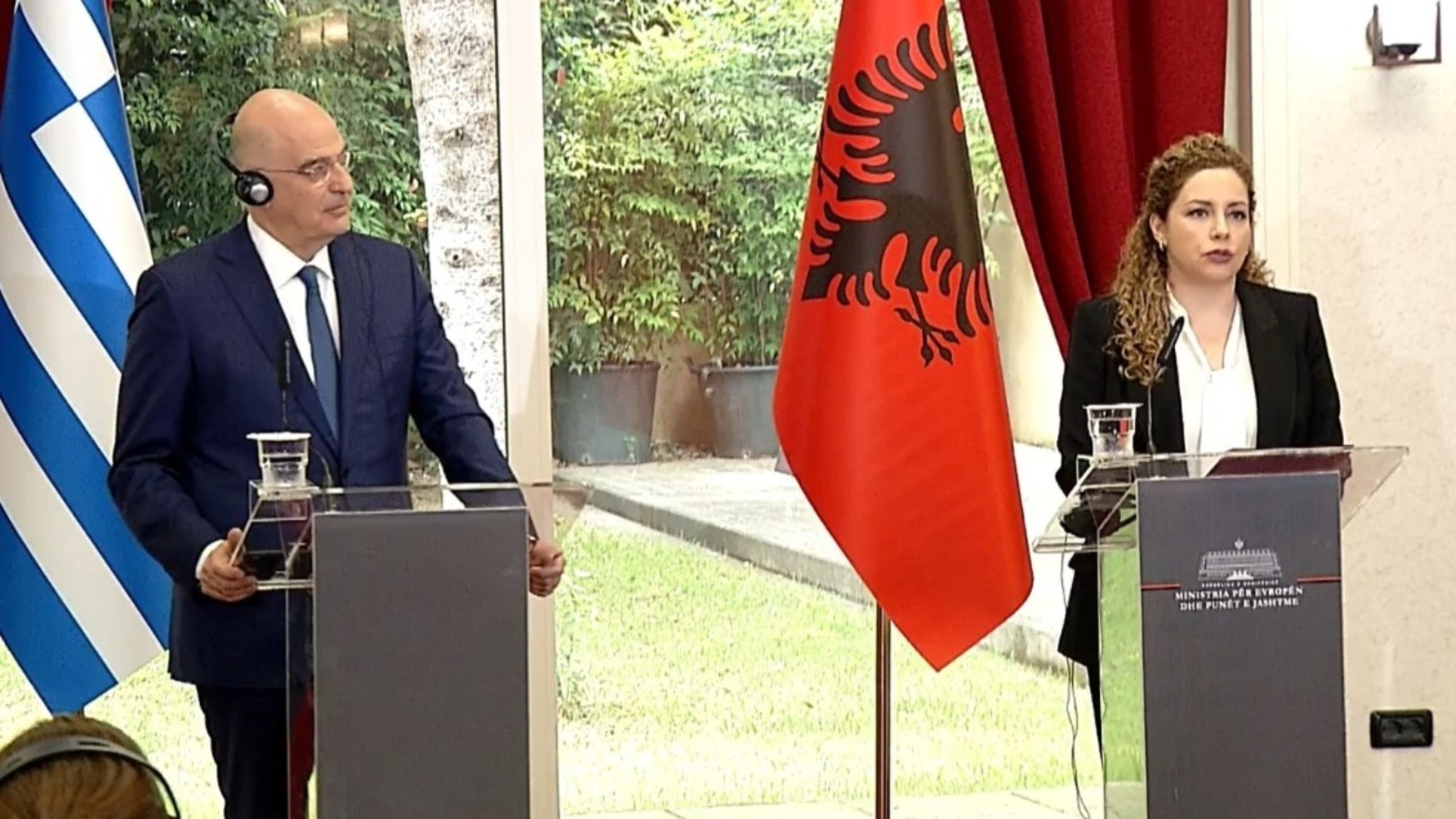 TIRANA, May 23 – "I am glad to be here today and announce our decision to pursue the issue of delimitation of maritime areas and the continental shelf in The Hague. The fulfillment of this procedure is of special importance and both countries want to resolve our differences on the basis of international and maritime law," said Greek Foreign Minister Nikos Dendias.
Dendias made that comment in a joint press conference with the foreign minister Olta Xhacka in Tirana where he paid an official visit on Monday.
The same position was reconfirmed by the Greek chief diplomat through a joint statement with Prime Minister Rama after a 60-minute meeting that was followed by a lunch at the government villa 30.
Albania and Greece are nearing the finalization of the official request that will be submitted to the Hague Tribunal for the review of an agreement between the parties on the issue of demilitarization of maritime areas.
But reaching an agreement on the sea agreement the two ministers of Foreign Affairs Xhaçka and Dendias considered as a precedent to lead to the same solution even for the solution of the absurd law of war that has been in force for nearly 80 years. Xhacka reminded his Greek counterpart that the Greek community's property issue requires a solution. "There is good will for mutually acceptable solutions for the abrogation of the Law of War or the issue of property of the Cham community," said Xhacka.
But Dendias seemed to take this statement as a challenge from Xhacka and reminded him that Greece has the right to veto Albania's European path, even though he himself had previously stated that Albania and North Macedonia deserve the opening of negotiations.
To devalue the demand of Albanian counterpart on the Cham issue Dendias said that there are still problems that the Greek minority in Albania claims need to be addressed.
In a post on FB PM Rama said that he had a fruitful conversation on issues of interest that unite the peoples of the two countries.
Dendias said in a separate post on social networks that the discussions with the Albanian PM focused on bilateral relations, Albania's EU perspective and regional developments.
What was expected as a peaceful visit until the arrival of the Greek FM vanished as the thorny question of the Chams' rights to their properties in Greece was raised by Xhacka. The Greek FM turned to the old arrogance warning official Tirana of Athens' use of the veto on the opening of the accession talks with the EU. According to such a scenario, even Albania like North Macedonia will be faced with veto so the attempt of PM Rama for decoupling with Sofia is null and void. Apparently, Tirana and Skopje are respectively hostages of the Greek and Bulgarian vetoes.
/Argumentum.al