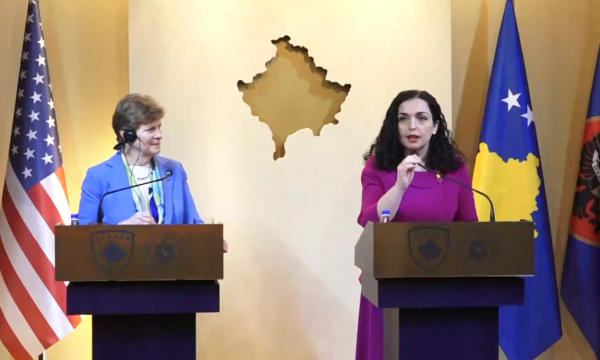 The United States supports aspirations of Kosovo to join NATO and the European Union, the US Senator Jeanne Shaheen stated during a press conference in Pristina.
US Senators Jeanne Shaheen, Chris Murphy, and Thom Tillis are visiting Pristina today as part of a Balkan tour. After meeting Kosovo President Vjsao Osmani, Shaheen said that the visit shows bipartisan support of the US Senate. "We look forward to supporting your aspirations to become part of NATO. Senator Tillis and I are co-chairs of the Senate NATO Observer Group and we work hard to support the US Congress efforts of what NATO is doing to support aspirations of countries such as Kosovo which are interested to joint NATO," Shaheen said. "We also support your continuous aspirations to move towards the EU and for your partnership with the West," she said. Senator Shaheen said the US shares Kosovo concerns that the Russian's invasion in Ukraine might affect the Western Balkan region.
Kosovo President Vjosa Osmani said that she informed US senators on Serbia's aim, which as she said, are to return Balkans in the past. "Ruissa was and is interested to destabilise our continent and region," Osmani said adding that destabilisation tendencies will be prevented because "this is the will of Kosovo, as the most pro-American and pro-NATO nation in the world," she said.
Following meeting with President Osmani, the US Senators have been hosted also by Prime Minister Albin Kurti.