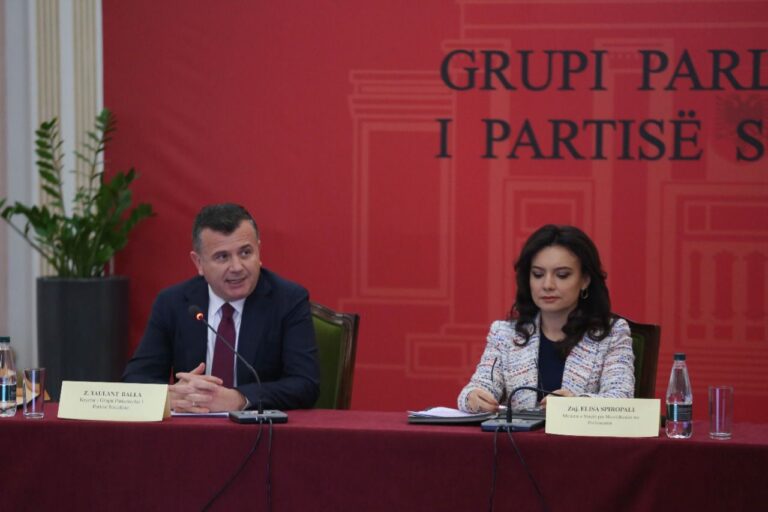 TIRANA, April 18- The chairman of the Socialist Party (SP) parliamentary group, Taulant Balla announced on Monday that consultations for the election of the new President will start on Tuesday.
Balla said that the parliamentary opposition will be involved in this process, and its representatives are invited to a meeting on Wednesday at 17:00 in the Presidency of the Assembly.
"The meeting will take place with the 3 leaders of the parliamentary groups, who are Enkelejd Alibeaj as chairman of the Democratic Party, Mesila Doda from Democracy for Integration (8 deputies) and Fatmir Mediu from the Alliance for Change (8 deputies)," he said.
In the meantime Balla said the first proposals with concrete names from SP members will be submitted on Tuesday. "Each deputy of the SP group will have the opportunity to propose no more than 3 candidates, whether ladies or gentlemen, whose names will be written in a form which will be put in an envelope. This should be a process of consultation within the parliamentary group."
The SP has closed every door to former DP Premier Sali Berisha for negotiations on the new head of state, as well as for the Re-establishment Commission. Balla's argument for excluding from the negotiations the Re-establishment Commission, which today leads the DP by court decision, is that it is not a parliamentary group, as clearly defined by the Constitution.
Balla underlined that there is no such registration in the Assembly even for Socialist Movement for Integration. He said that the tradition of the Assembly for the election of the President will be followed. SMI has four deputies.
Socialists have stressed they have the votes to elect the new President without the votes of opposition.
/Argumentum.al