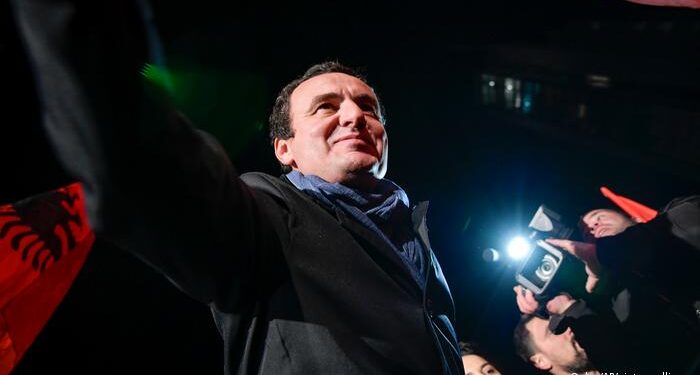 "This was a referendum for justice and work and against state capture and corruption," has declared the anti-establishment Vetevendosje (Self-Determination) party
leader Albin Kurti after victory in the Kosovo election by a huge margin on Sunday.
Partial results placed Kosovo's left-wing Vetevendosje (Self-Determination) party ahead of its rivals following the Sunday vote, which was the second parliamentary election in 18 months.
According to partial results announced by Central Election Commission VV gleaned about 49% of the vote, with some 90% of the ballots having been already counted.
The long-time ruling Democratic Party of Kosovo (PDK) was projected to receive around 17% of the vote, and the conservative Democratic League of Kosovo (LDK) 13% in Sunday's snap election after Kosovars braved freezing temperatures and the coronavirus pandemic to cast their ballots.
Addressing his supporters, Vetevendosje's leader Albin Kurti said that the vote was unlike any other since the 1999 war against Serbia.
"Tonight our hearts are full of hope and our sights are set a little higher. We proved that there is nothing we cannot accomplish when we come together and walk firm. Thank you all for making this possible."
Kurti: Talks with Belgrade his government's "fifth or sixth priority"
VV leader said that the stalled normalization talks with Belgrade would be his government's "fifth or sixth priority."
Acting Prime Minister Avdullah Hoti from the LDK party said that the outcome of the vote was different than expected.
"As the acting prime minister, I will do to everything to ensure a normal handover of power," he said.
PDK leader Enver Hoxhaj accepted the results, but said his party will not join new government.
The PDK is currently led by former foreign minister after its two top officials, ex-president Hashim Thaci and his close aide Kadri Veseli had to face war crimes charges in The Hague.
"The results put Vetevendosje first, it's a clear message, and we, the PDK, have accepted this," he said.
The election was held on Sunday to pick 120 lawmakers from among more than 1,000 candidates from 28 political groupings.
Kosovo's Serbian minority has 10 seats. A further 10 others are allocated to other minorities.
Voters infected by the coronavirus will still be able to cast their ballot through mobile polling teams.
Some 1.8 million people were eligible to vote in the election. An additional 100,000 diaspora Kosovars were eligible to vote by post. The European Union sent an Elections Expert Mission to Kosovo to monitor the vote.
The US embassy in Kosovo reacted in a tweet saying that it is "encouraging to see so many citizens turn out to peacefully vote today, despite the weather & pandemic".
Albanian political spectrum greets Kurti
The head of the SP parliamentary group, Taulant Balla in a statement to the media on Monday morning wished victory to the Vetëvendosje Movement, which will form the government of Kosovo.
Balla stressed that these elections were very good, while congratulating the political parties in Kosovo that accepted the result. He made the statement shortly after the end of the meeting of the Electoral Staff in the SP headquarters in the framework of the elections of April 25 on Monday. Wishing the victory to Albin Kurti, Balla added that he can not wait to cooperate.
"I wish that the formation of the new government takes enough time. We can hardly wait for cooperation. We are sisters and brothers and of course we learn lessons, experiences from each other," said SP 'number two.
Former Prime Minister Sali Berisha, the veteran leader of the Democratic Party, hailed the victory of the Vetëvendosje Movement in the parliamentary elections in Kosovo and considered the victory of Albin Kurti and Vjosa Osmani a deep victory, a record.
"A heartfelt congratulations to Albin Kurti and Vjosa Osmani for their excellent victory!" wrote Berisha on FB on Monday.
The chairwoman of the SMI, Monika Kryemadhi, congratulated the leader of the Vetëvendosje Movement in Kosovo, Albin Kurti for the victory in the early parliamentary elections and also Vjosa Osmani, the candidate for President.
In her message published on FB, Kryemadhi said that she welcomes the opportunity to be side by side with the new government of Albania for cooperation and integration with Kosovo.
/argumentum.al