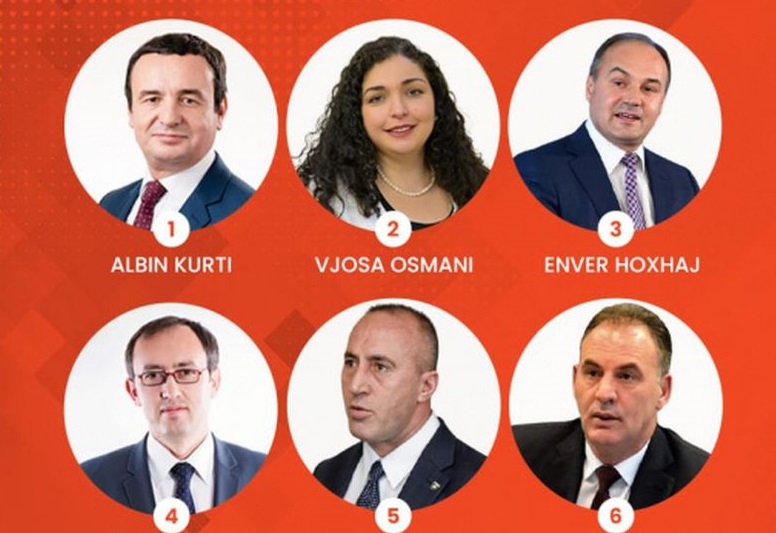 The period of 'silence'  before Sunday's snap election after a 10-day electoral campaign is in force in Kosovo on Saturday as political parties ended the unveiling of their electoral programs which mainly focused on economic recovery amidst the COVID-19 pandemic, improvement of health system and the judiciary.
The Central Elections Commission (CEC) has announced that 888 polling centers with 2,382 polling stations will be open on Sunday across the country.
Members of the Election Task Force have already assured the Quint that they will investigate and prosecute any allegations of fraud, bribery, and other criminal election violations to the fullest extent of the law. "If you see something, say something. If you have evidence of fraud, misconduct, or attempts to influence or threaten candidates or voters, report them to the Kosovo Police," the US Embassy said in a statement posted on Facebook on Friday.
In the meantime opinion polls have started with their predictions and as Reuters said on Saturday an anti-establishment party was expected to take the lead in parliamentary elections in Kosovo.
"The Vetevendosje party's growing popularity has shifted the political balance in the small Balkan state, which declared independence from Serbia nine years after NATO bombing ended a crackdown on separatists by then-Serb leader Slobodan Milosevic," its comment noted, adding that such a development complicates Western efforts to broker an end to a territorial dispute with Serbia that has hobbled its 13 years of independence.
Opinion polls predict Vetevendosje will win between 45 and 55 percent of the vote among ethnic Albanians, who make up 90 percent of the 1.9 million population. That would be nearly double its score in 2019 although it may still need a partner to govern.
Vetevendosje may have to join forces with either the now-ruling Democratic League of Kosovo (LDK), opposition Democratic Party of Kosovo (PDK) or Alliance for the Future of Kosovo (AAK), but analysts foresaw a change in the political elite.
Naim Rashiti an analyst with the Balkans Policy Research Group said Vetevendosje leader Albin Kurti would face the same dilemmas as his predecessors over how to fortify Kosovo's independence.
Former Prime Minister Ramush Haradinaj, whose AAK party could emerge as a king-maker, says Kosovo should not be held hostage to a deal with Serbia.
"We might as well look for other options and another option would be referendum and becoming a union with Albania," he told Reuters.
Immediate measures planned by Vetevendosje are the vaccination of at least 60 percent of the population, sustainable provision of PPPs, drugs and tests, continuous training of health staff, "transparent, honest and intensive communication" with citizens.
Regarding international relations, the party promises special emphasis on collaboration with Albania and the wider region in fighting the pandemic.
Vetevendosje plans to create a Development Bank, and a Sovereign Fund that will take ownership of strategic assets and investments.
A key priority for Kosovo's largest party in last elections is to reform the judiciary through the vetting of judges and procesurtors.
In terms of economy, they have promised to support businesses by assuring fair competition, better working conditions, and an increased minimal wage.
"It is still way too early to predict how or if the next LVV government is going to be successful at all. But what is clear is that Kosovo appears to be at a crossroads: it will either continue down the same self-destructive path or begin a major political and socioeconomic transformation. The LVV has what it takes to choose the second option and lay the groundwork for a new political and economic reality in Kosovo. Whether it will succeed remains to be seen," Al Jazeera quoted on Saturday Agon Hamza, assistant professor of philosophy at the Institute of Social Sciences and Humanities in Skopje and a former adviser to the prime minister of Kosovo, as saying. /argumentum.al