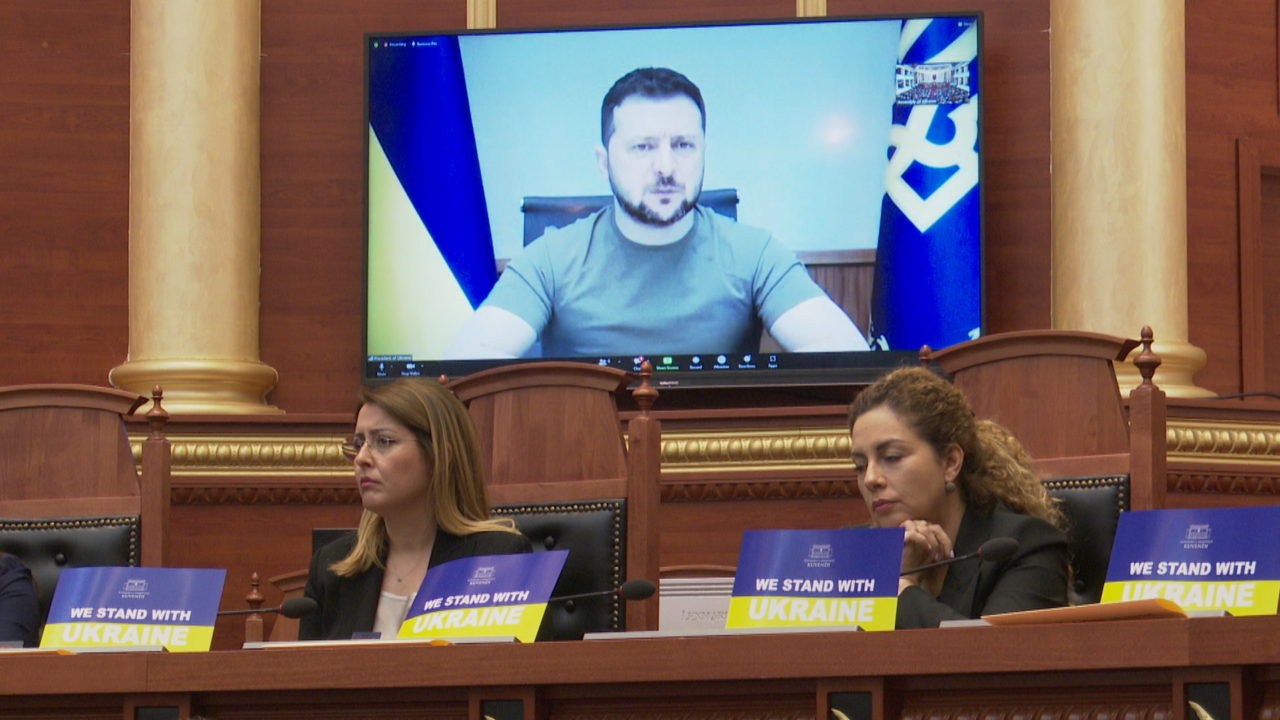 TIRANA, May 3 – The Ukrainian president Volodymyr Zelenskyy has extended thanks to the Albanian people for their support since the start of the Russian aggression against his country.
"I am grateful for the fact that you never hesitate to support anyone; you are definitely on the side of freedom and truth. Thank you for taking concrete steps for Ukraine, for your help on security, for your support against Russia, and for your attendance to our children and our people. Your stance towards the Ukrainian people reminded me of the Albanian St. Theresa, who has turned into a symbol of humanism for the entire world," said Zelenskyy through a video-call on Tuesday.
Albania is the first country in the Western Balkans to welcome Zelenskyy's address to its Parliament.
Ukrainian president began the speech by wishing all Muslim believers a happy Eid-al-Fitr and reminding everyone that since February 24, Ukrainians haven't been able to live in peace.
Ukraine's ambassador to Albania, Volodymyr Shkurov was also present in Parliament during Zelenskyy's remarks.
The Albanian Parliament was filled with Ukrainian flags.
Zelenskyy spoke about Russian bombings that are taking hundreds of innocent lives, including children.
"Mariupol has been completely destroyed. No buildings remain," he said, adding that such scenes are present in every city and every village around the world.
"Our senior citizens who have survived the Nazi invasion, say that they've never witnessed such atrocities even back then," said Zelenskyy.
In addition, he revealed that Russians are committing horrid crimes like forcing Ukrainians to lay on the ground with their shoes filled with water.
In the meantime Zelensky called on Albania to ban Russian ships from ports and impose restrictions on Russian tourists.
"I ask you to ban Russian ships from ports and restrict the flow of Russian tourists, as you can never know who came to you: perhaps, they are the murderers who were in Bucha, or butchers from Mariupol, or those who are already working to undermine your state," Zelensky said quoted by Ukrinform.
The President of Ukraine stressed the importance of imposing an embargo on Russian oil and effectively blocking any schemes used by Russia to deceive the free world and ignore sanctions.
In addition, Russian banks should be disconnected from the global financial system completely, Zelensky noted.
"No matter how difficult it may be, it is necessary to deliberately restrict trade with the Russian Federation. Even if not today, then tomorrow Russia will intentionally use trading ties to hit your market as well, when they want some political concessions from you. It is necessary to deprive Russia of this instrument on time," Zelensky added.
EU countries have already endorsed five sanctions packages against Russia and are working to introduce the sixth package, which may ban the import of Russian energy resources.
Albania has eased access for tourists in the country for the 2022 summer session. When asked by journalists on April 25 if the relaxed measures would be reviewed for Russian tourists, Prime Minister Edi Rama said: "No, I don't think so." It is to be seen what will happen after the direct appeal of Ukrainian President.
/Argumentum.al