The State Counselor and Minister of Foreign Affairs of the People's Republic of China, Wang Yi paid a visit to Albania on Friday as part of a regional tour where he reportedly met with President Ilir Meta and Prime Minister Edi Rama while holding official talks with the Minister for Europe and Foreign Affairs of Albania, Olta Xhaçka. According to the announcement by the Foreign Ministry, the ministers during the meeting in Tirana exchanged views on the situation of bilateral relations, emphasizing the mutual will to expand economic, trade, cultural, but also diplomatic and political exchanges. Part of the conversation was the exchange of views on cooperation between the two countries in the United Nations Security Council, where Albania will be a non-permanent member of the UN Security Council for the period 2022-2023. "Both ministers confirmed the mutual will to hold consultations and to make sincere efforts to find spaces for cooperation and understanding," the statement said.
"We have the full will to cooperate closely with the People's Republic of China on all those issues where we share common positions and interests, recognizing and appreciating the role and weight of China in the global arena," said Minister Xhaçka. It was further emphasized that the talks focused on bilateral cooperation and opportunities for its further development in areas of mutual interest, focusing on economic and cultural cooperation, the fight against the COVID-19 pandemic, cooperation in the field of health, and cooperation in the frame of regional initiatives (China-CEEC).
According to the announcement, Minister Xhaçka and the Chinese counterpart supported the abolition of visas for all Albanian citizens who want to visit China, where it is emphasized that the Chinese chief diplomat assessed that his country will respect the principle of reciprocity.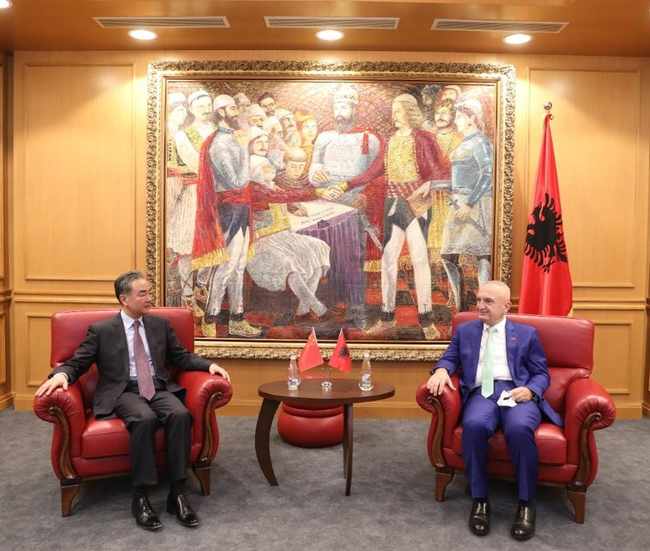 The visit of the Chinese Foreign Minister is the first in Albania of a chief diplomat of the People's Republic of China since 2011.
It is announced that the wish for promoting the bilateral relations in fields of mutual interest was expressed in the separate meetings of Chinese FM with President Meta and PM Rama.
Beijing's top diplomat expressed the appreciation of his country for the support of Albania in its effort to take the legal seat at the UN fifty years ago an anniversary which has been commemorated in China. / Argumentum.al