By Genc Mlloja
Senior Diplomatic Editor
"Most research on Albania shows that the disinformation that is present within the country tends to be promoted by local actors, with little foreign interference. This is likely because of the widespread pro-EU and pro-NATO attitudes in the country, which makes it difficult for foreign actors to develop strong grassroots anti-Western networks," has said the Researcher and Lecturer at the University of Amsterdam and Research Associate at the Global Disinformation Index, Ognjan Denkovski.
In an exclusive interview with Albanian Daily News the researcher dwelt at length on sensitive issues related to misleading information and fake news, media manipulation, links between organized crime and terrorism, as well as the very innovative methodologies used to study social media through algorithms and machine learning. According to him, misleading information, fake news and disinformation campaigns arguably represent a greater threat in the Western Balkans than they do in the Western world.
Researcher Denkovski from North Macedonia has contributed towards a publication examining the links between organized crime and terrorism in Croatia and Slovenia, party strategy debates for the Friedrich Ebert Stiftung and a report commissioned by the Dutch MOI entitled The Politics of Social Media Manipulation. In his thesis research, a published study in the International Journal of Communication (https://ijoc.org/index.php/ijoc/article/view/13925) and awarded with a grant from the UvA DigiCom Lab, he proposes a method for detecting Russian disinformation content in political news in Serbia. Currently, he is a co-author of the Routledge edited volume completed and soon to be published, which can be found at https://www.routledge.com/Europe-Continent-of-Conspiracies-Conspiracy-Theories-in-and-about-Europe/Onnerfors-Krouwel/p/book/9780367500689. It examines the role of conspiracy theories in political discourse in Croatia and North Macedonia, as part of the COST COMPACT Action.
Asked about the post-coronavirus era, the researcher said the world is not out of the woods just yet and a lot remains to be done before being able to forecast what the post-coronavirus world will look like. "My hope is for greater cooperation between the major powers (in particular with the expected shift in the US foreign policy), but as we are yet to see the true economic consequences of the pandemic, I find that any geo-political forecast we make will almost certainly be off the mark," said researcher and lecture Ognjan Denkovski in the following interview:
– First of all, it is a pleasure to have this talk with you on some sensitive issues which have to do among others with misleading information/fake news, media manipulation, links between organized crime and terrorism. As far as I know you use very innovative methodologies to study social media through algorithms and machine learning. At the outset, would you kindly share with ADN's readers some of you keen interests in your research works and how is it related with the Western Balkans?
– Firstly, thank you kindly for inviting me to this interview. I am happy to tell you a bit about my research interests, which remain largely untapped in the Western Balkan context. My primary interest is in the field of computational social science – a field focused on the application of computational methods for modelling, simulating and analyzing social phenomena. This research field gained its popularity through the advent of Big Data and the Internet of Things, which have allowed for the collection of extensive amounts of data regarding almost all aspects of human behavior on a regular basis. Once this data became available, the real challenge was how to analyze it.
Computational social science addresses this issue within the social sciences by making use of, for instance, Application Programming Interfaces (APIs) from social media sites to collect structured data about social phenomena and approaches such as Natural Language Processing (NLP), Machine Learning (ML) and network analysis to make sense of these vast amounts of data.
These approaches have a wide variety of potential applications and they are particularly useful for observing and predicting trends regarding user behavior on social media. For instance, one can make use of simple NLP approaches to aggregate and summarize the most popular topics for voters in the period surrounding an important event such as an election, while also measuring the sentiment around these discussions, as well as the network of users contributing to the popularity of different topics. With these methods, one can also detect the activity of automated networks on social media promoting a particular issue, also known as computational propaganda. I think that these types of approaches are only beginning to be applied in the Western Balkan context and will become increasingly relevant in the future.
-It is spoken much about misleading information (fake news) circulating on social media and news websites in different parts of the world. How much threatened is the Western Balkans from such a drive?
– Citizens in the Western Balkans have some of the lowest media literacy rates in Europe, as well as low levels of trust in the media sector, governments and public institutions. With these factors combined, misleading information, fake news and disinformation campaigns arguably represent a greater threat here than they do in the Western world. For the most part, domestic and foreign actors do and will continue to use disinformation tactics and fake news to promote negative sentiment towards the European Union and NATO in Western Balkan countries. When it comes to foreign actors, we can expect these efforts to continue being dominated by Russia (through the activity of its state-funded outlets based in Serbia) and to a lesser extent China and Turkey.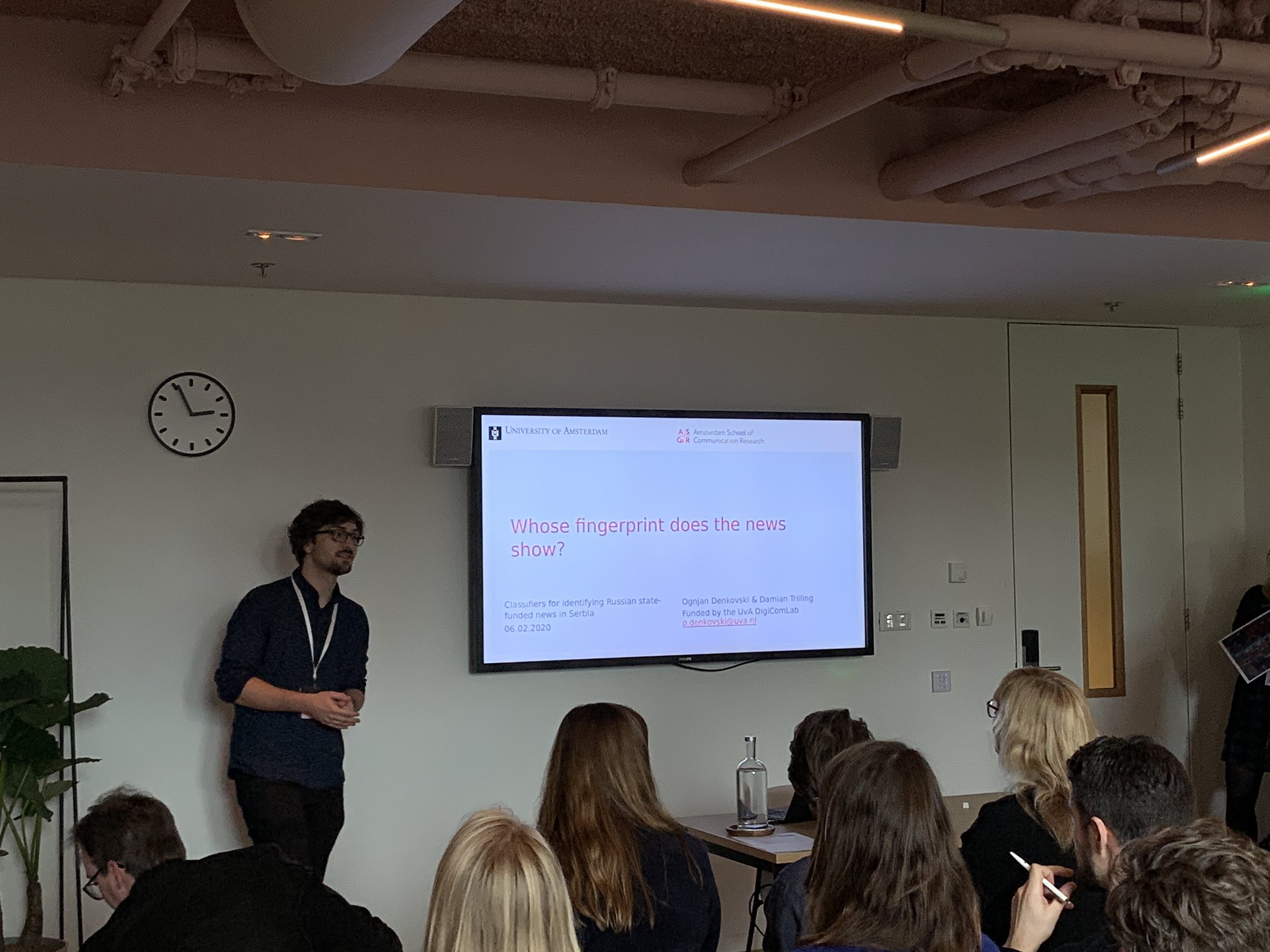 However, disinformation campaigns and fake news cycles largely tend to take place in online settings, and in the Western Balkan context, a lot of news content is still consumed via traditional news sources. As Western Balkan citizens increasingly move towards online news sources for news consumption, I believe that these trends of misleading information online will begin posing increasing issues.
-Two issues in one question: First, how would you assess the current security situation in the Western Balkans, and secondly, which is the impact of disinformation on the course of political, economic and social developments in specific countries of the region?
– Geopolitical insecurity provides fertile grounds for the development of disinformation. With limited or contested sovereignty of the governments in Kosovo and B&H and territorial disputes in other Western Balkan countries, the region is ripe for foreign and domestic actors interested in spreading disinformation. It is no surprise then that Russian state-funded outlets like Sputnik and Russia Beyond the Headlines have a firm base of operations in Serbia from where they can reach a truly broad audience across the region. These outlets have consistently spread misleading and sensational information regarding Kosovo, as well as the intentions of NATO and the EU in the region.
Often, domestic actors sympathetic to these views have also made use of these opportunities to either promote similar narratives or further amplify anti-Western narratives promoted by foreign actors. These approaches further contribute to the degrading of media and government trust in the region, resulting in lower voter turnout, decreased faith in the Euro-Atlantic integration process and an overall decrease in the standard of democratic governance in the region.
The situation is different in the case of Kosovo, where disinformation campaigns move in the opposite direction. Some recent reports suggest that domestic actors with links to former Prime Minister Albin Kurti manipulated state media reporting to accuse the opposition candidate for Prime Minister in the 2019 election, Vjosa Osmani, of being a pro-Russian agent. In a country with strong pro-NATO attitudes, these accusations contributed to hostile public discourse in the period surrounding the election.
Regardless of their content, disinformation campaigns supported by state sponsored media or by grassroots computational networks facilitate increasing polarization in public discourse which can have substantial political, economic and social consequences.
– Could you please tell us which countries, according to your research, have been the main target of such a 'misleading' activity, and which has been the counter reaction of the alleged targeted countries? In this frame, please what can you tell us regarding Albania?
– Over the last two years, the biggest events we've seen tied to computational propaganda and disinformation have taken place in Serbia and North Macedonia. In North Macedonia, the biggest (and likely the first) computational propaganda campaign developed during the 2018 name-change referendum. During this time, a large network of semi-automated accounts increased the engagement of the #bojkotiram ('I am boycotting') hashtag, significantly contributing to the popularity of the movement in opposition to the name-change. Balkan Insight has published really interesting research about this network and the key actors within it. While we have no way of quantifying its impact, there is no doubt that this network significantly contributed to the final outcome of the referendum. Neither Twitter, nor the Macedonian government responded to the activity of this network (a large part of which remains active to this day).
In Serbia, we saw a similar type of network developed to support the Serbian Progressive Party and President Vucic during the 2020 election. This network consisted of some 8,500 automated accounts which had generated 43 million tweets, reaching a wide audience. However, this network was fortunately removed by Twitter relatively early on. The Stanford Internet Observatory has published very interesting research about its activity. I am not aware of any formal response from the Serbian government in this case.
As to foreign disinformation campaigns, in the case of the coronavirus pandemic, a few days after the Serbian government announced the purchase of Pfizer produced vaccines, Sputnik Serbia began publishing content criticizing the vaccine trials as incomplete and portraying the Russian vaccine as superior and as the better choice for Serbia. Such content obviously also made its way into Montenegro, further contributing to the vast amount of conflicting information regarding the coronavirus vaccines in the region.
As far as I know, there has not been a similar type of activity in Albania (yet). Most research on Albania shows that the disinformation that is present within the country tends to be promoted by local actors, with little foreign interference. This is likely because of the widespread pro-EU and pro-NATO attitudes in the country, which makes it difficult for foreign actors to develop strong grassroots anti-Western networks. However, I fully expect that we will see the development of computational propaganda networks in Albania in the near future, potentially spilling over from Kosovo.
– You have examined the presence of computational propaganda methods for disinformation purposes in North Macedonia focusing on the period surrounding the 2020 election in a study last year. What have the findings of the study shown and how much that experience can be applied in other regional countries?
– The study focused on examining the interactions with the accounts of major political figures and media outlets on Twitter in North Macedonia in the period surrounding the 2020 election. We found that a large number of the accounts interacting with political and media figures in this period were created prior to the original election date in April 2020. A substantial number of these accounts matched two repetitive, computer-generated naming patterns, likely indicating an artificial injection of fake accounts for election-related goals. The activity of these accounts focused on anti-Western or anti-Social Democrat rhetoric, as well as amplification of VMRO-DPMNE and Levica officials' views, largely in opposition to the Euro-Atlantic integration of North Macedonia. While the network is likely managed by local actors, the study showed that there are ample conditions for future foreign computational propaganda campaigns, both in terms of technical know-how and in terms of existing networks with followers sympathetic to anti-Western discourses.
The findings from this study and from previous research regarding similar activity in the region suggest that computational propaganda approaches are just starting up in the Western Balkans. While Twitter's removal of the pro-Vucic network is promising and shows that Twitter has the region on its radar, the fact that both the #bojkotiram network and the network noted above still remain active, suggests that actors interested in developed computational propaganda approaches in the region are unlikely to face significant legal or financial barriers in this process. This assumption is further supported by the lack of coordinated efforts from governments in the region to counter these issues, with only superficial discussions regarding increasing media literacy through education. Very little of these discussions has come to any fruition.
– How much serious is disinformation campaign at world level and in what ways it influences policy-making, particularly at this juncture when the coronavirus pandemic is hitting hard causing large human fatalities and devastating economic, financial and social impact on many countries deepening the gap between the rich and poor?
– Disinformation campaigns are not new, but with mass online communication, their effect is taking on a new level in the 21st century. Disinformation and misinformation spread like wildfire during the coronavirus pandemic, showing us just how influential the dissemination of misleading information can be. During a global pandemic, this was the last thing the world needed.
I think that policy makers globally have not yet started addressing these issues to the necessary extent. The EU has started a number of initiatives for responding to disinformation within the EU, including disseminating an 'EU Code of Practice on Disinformation', and launching the Strategic Communications Task force which has largely focused on pushing back on Russian propaganda. However, these efforts have been criticized as not being proportional to the scope of the problems that the EU faces with disinformation. Fortunately, there are growing number of organizations, including one that I am affiliated with (the Global Disinformation Index) which are trying to make major changes in the flow of disinformation by identifying and disrupting the funding of sites and actors which promote this type of content. However, the scope of the problem remains far beyond the capacities of any one such organization and I would argue that a large part of the responsibility lays with social media sites, all of which will have to make some increasingly difficult decisions regarding what content they will and will not allow on their platforms.
But I remain optimistic. With continued research on the topic and further quantification of the economic and social costs of disinformation and fake news, policy makers and social media sites will find it increasingly difficult to ignore these issues.
– To conclude, Professor, let me close with the high expectations that the worst plague which has hit the world in many decades, will be over soon. My question is short and straightforward: How do you see the post-coronavirus world, its global political, economic and social order and the future role and behavior of the major powers?
– I wish I could say. We are not out of the woods just yet and a lot remains to be done before we can forecast what the post-coronavirus world will look like. My hope is for greater cooperation between the major powers (in particular with the expected shift in the US foreign policy), but as we are yet to see the true economic consequences of the pandemic, I find that any geo-political forecast we make will almost certainly be off the mark./ADN