TIRANA, October 2 – Prime Minister Edi Rama was received by the President of Croatia, Zoran Milanovic in a meeting in Zagreb on Monday.
Rama is accompanied on this official visit by the Minister of Finance and Economy, Ervin Mete and the Minister of Health and Social Protection, Albana Kociu.
Earlier on Monday he was received in a meeting by the Prime Minister of Croatia, Andrej Plenkovic.
In the framework of the official visit to Croatia, two cooperation agreements were also signed between the two countries.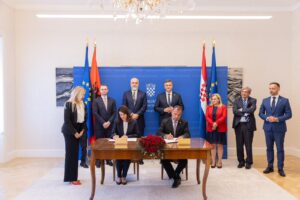 Specifically, the agreement was signed between the authorities of the two countries for the mutual recognition of social security contributions for pensions, which benefit over 3,000 Albanian citizens living and working in Croatia.
The cooperation plan in the field of health and medicine for the years 2024-2026 was also signed between the two countries, based on the bilateral agreement signed in Tirana on October 27, 2003. /argumentum.al