TIRANA, September 25 – The Minister for Europe and Foreign Affairs, Igli Hasani, and the Minister of the Interior, Taulant Balla, participated on Monday in the tributes in honor of Sergeant Afrim Bunjaku, who fell in line of duty, held in Vushtri, Kosovo.
"Together with family members, senior officials and representatives of the diplomatic corps in Kosovo, today we bid our last farewell to Sergeant Afrim Bunjaku," Hasani said in a post on social networks, as he also shared photos from the homage held in Samadregj in Vushtri.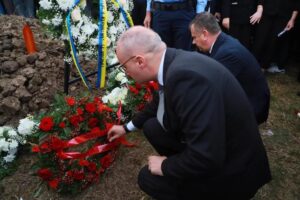 "We bow down with honor and respect to the work and memory of the hero of the Republic, who sacrificed his life for the sovereignty of Kosovo," Hasani said.
It is a day of mourning in Kosovo on Monday in honor of the police officer Afrim Bunjaku, who was killed on Sunday in the north of Mitrovica in a terrorist attack by a Serbian armed group. /argumentum.al